This Island Earth
(1955)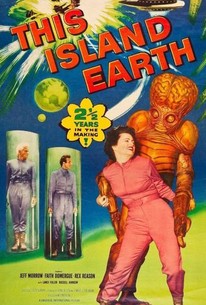 Movie Info
For reasons that defy logic, the excellent This Island Earth was held up for ridicule as an allegedly bad movie in the film version of TV's Mystery Science Theater. If not the best science-fiction film of the 1950s, Earth is certainly one of the most intelligent and elaborate. The story begins when the image of Exeter (Jeff Morrow), a huge-domed scientific genius from the planet Metaluna, appears on an experimental 3D television screen. Exeter invites several noted scientists from around the world to work on a top-secret project at Exeter's earthly mansion. Among those accepting the invitation are Cal Meacham (Rex Reason) and his ex-fiancee Ruth Adams (Faith Domergue). Soon, Cal and Ruth learn Exeter's true motives; to use the Earth's atomic knowhow in building a defense shield to protect Metaluna against the enemy planet Zahgon. Eventually, Exeter boards his high-tech flying saucer and whisks Cal and Ruth off to his dying planet, where, among other perils, they are menaced by a hideous mutant. Based on a novel by Raymond F. Jones, This Island Earth is one of those rare 1950s speculative films that holds up as well today as it did when first released, despite the comparative quaintness of the special effects and high-tech paraphernalia. Incidentally, the climactic Metalunan scenes were directed by Universal's resident sci-fi specialist, Jack Arnold.
Critic Reviews for This Island Earth
Audience Reviews for This Island Earth
Squarely in the fantasy sci-fi camp (as opposed to the kind of sci-fi based in reality) this 50's romp has the aliens here to enlist our help instead of the ever popular take over everything ethos we've come to expect. At least at the beginning. Still interesting even if dated. The dumbest guy in the film has the biggest brain! That alone is worth a drink or two!
Kevin M. Williams
Super Reviewer
½
What was once probably cutting edge special effects are now laughably awful but for fans of 50's sci-fi that might be just the ticket. Goofy in its seriousness it still manages to entertain. Jeff Morrow with his extremely deep voice is perfect to spout the scripts various profundities while Faith Domergue a lovely woman although never much of an actress is suitably distraught. A Satuday afternoon matinee movie if ever there was one.
½
If you're looking for a 50s example of style over substance, you've found it. This Island Earth (I'm still not sure how the title applies to the story) starts off with an interesting premise--aliens posing (poorly) as a think tank of sorts to recruit Earth's best and brightest for the scientific good. Turns out they're scientifically more advanced than us and need our help for some reason. Eventually they wind up killing all but 2 of the scientests (including The Professor from Gilligan's Island!) and abduct them, taking them back to their home planet that's got one foot on a banana peel and the other in the grave. The story is nonsensical shit. The first hour really tries your patience then sort of pays off with some kitschy set design, neat lighting and some fun effects that at the time supposedly took 2 1/2 years. Ooh! And a monster! I have a feeling I'd get more out of this from the MST3K perspective but you're better off watching Forbidden Planet as This Island Earth is the low-rent, poor man's version of that movie...
Michael Gildea
Super Reviewer
This Island Earth Quotes
There are no approved quotes yet for this movie.