This Man Must Die (Que la bête meure)
(1970)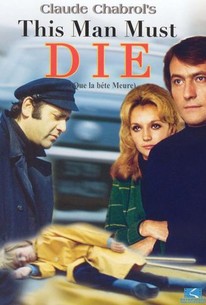 This Man Must Die (Que la bête meure) Photos
Movie Info
Claude Chabrol directs the tense psychological thriller Que la Bête Meure (This Man Must Die). When his young son is the victim of a hit-and-run car accident, writer Charles Thenier (Michel Duchaussoy) is determined to find the killer. Obsessed with avenging his son's death, he carefully records his thoughts in a diary. He travels to Paris and meets actress Helene Lanson (Caroline Cellier), who is a prime witness to the accident. After they start up a love affair, he discovers that the driver of the car was her brother-in-law, Paul Decourt (Jean Yanne). Paul also owns the auto repair shop that fixed up the car after the accident. Believing Paul is the killer, Charles befriends his son Phillipe Decourt (Marc Di Napoli). As it happens, Phillipe also wants Paul dead for his own reasons. Charles manages to get invited to the family's seaside home in Brittany in order to finally get his revenge, but things don't work out according to plan.
Critic Reviews for This Man Must Die (Que la bête meure)
Audience Reviews for This Man Must Die (Que la bête meure)
After several attempts I finally managed to complete this film, I like the plot of this film very much, but it really drags in the middle of this movie, making it feel like a long watch.
Lady D'arbanville
Super Reviewer
For such a quiet, clam movie it packs a ver heavy emotional punch by the end and the performance by Michel Duchaussoy is nearly flawless.
Quinto Wallight
Super Reviewer
½
Given that Nicholas Blake's "The Beast Must Die" is one of my favourite crime novels, I was looking forward to this adaptation by Claude Chabrol, though I suspected beforehand that it might be slightly disappointing. Essentially a bereaved father's diary, recording a vengeful scheme to find and punish the man who killed his son in a hit-and-run accident, the book contains a stunning surprise that only really works properly on the page. The film works best as a touching, gradually developed love story between the father (Michel Duchaussoy) and the woman (Caroline Cellier) he uses as an unwitting pawn in his game of retribution. The final scene, in which our hero finds redemption in a fatherly act of self-sacrifice for a substitute son, is absolutely lovely. Jean Yanne is terrific as the villain.
This Man Must Die (Que la bête meure) Quotes
There are no approved quotes yet for this movie.