This Means War
(2012)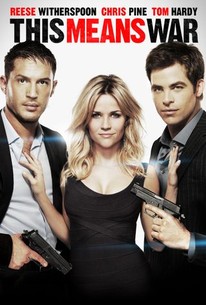 TOMATOMETER
AUDIENCE SCORE
Critic Consensus: A career lowlight for all three of its likable stars, This Means War is loud, clumsily edited, and neither romantic nor funny.
Movie Info
The world's deadliest CIA operatives are inseparable partners and best friends until they fall for the same woman. Having once helped bring down entire enemy nations, they are now employing their incomparable skills and an endless array of high-tech gadgetry against their greatest nemesis ever - each other. -- (C) Fox
Critic Reviews for This Means War
Audience Reviews for This Means War
Another bland, boring and misfire of a romantic comedy, this film could have been terrific, but it wastes all its potential on such a lacking script that elements that normally would gel together simply don't. Instead, This Mean War is a tedious affair, a film that relies on genre clichés in order to create its plot and jokes. I must admit, I did smile a few times, but I didn't laugh one bit. This film really could have been much better, but as it is, it's a film that misses the mark. Considering that Tom Hardy was in this, I was hoping that he would this dreadful picture, but he didn't. This Means War is void of laughter, and it doesn't reinvent the genre in any way. I didn't this film to be as bad as it is, but sadly it is, and it's a film not worth seeing. I was mildly curious to watch the film because, the premise pretty good, but the execution just doesn't deliver. The film might have looked good on paper, but on celluloid it's a whole different story. This is simply a dull picture, one that doesn't succeed at making you laugh or more importantly, entertain you. This is your typical rom-com, and it's quite predictable and though it uses an interesting idea for a story, the payoff is quite weak, and most all, Hardy's skills as an actor are wasted here. However, at least his filmography is pretty solid, and with this bomb, it doesn't anything do tarnish his incredible work. Same goes for Chris Pine, who was wonderful in Star Trek, Smoking Aces and Bottle Shock. This Means War is a wasted opportunity and it really should have been a good affair, but it relies far too much on genre clichés to create its plot that it's just a flat, boring film that fails to grab your attention.
This was an enjoyable film, good to see that there are a few big budget Action/Rom-Coms being made that have a great balance of action and humour. Similar to True lies, Knight & Day and Date Night so if you liked any of those you'll enjoy this to.
½
Unsurprisingly enough an average, unfunny comedy. Amoungst the Love triangle, there's a pointless understory, undeveloped characters and not enough action to make this movie any more exciting.
Film Crazy
Super Reviewer
This Means War Quotes
| | |
| --- | --- |
| Ivan: | See you in the office? |
| Tuck: | No, I'll see you in a few mate. |
| Ivan: | Come here. |
| Tuck: | Come here. |
| Ivan: | I love you. |
| Tuck: | I love you too. |
| Ivan: | Family always and forever. |
| Tuck: | Yeah, sorry. |
| Ivan: | Take care. |
| Tuck: | Take care. |