This Property Is Condemned
(1966)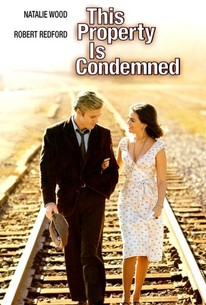 This Property Is Condemned Photos
Movie Info
Based on a play by Tennessee Williams, this screen version (after falling into the hands of screenwriters) tells of the struggles of a young woman as her mother attempts to manipulate her love life. Natalie Wood stars as Alva, who falls for Owen (Robert Redford) when he stays at her mother Hazel's (Kate Reid) boarding house. After Hazel lies to Owen that Alva is marrying someone else, he leaves town. A spiteful Alva marries her mother's violent lover, J.J. (Charles Bronson). The day after the wedding, she comes to her senses and goes after Owen, but her mother interferes again, revealing the marriage to Owen. Alva is then traumatized beyond repair and her life falls apart in usual Williams fashion. This drama also includes performances by Mary Badham, Dabney Coleman and John Harding among others.
Critic Reviews for This Property Is Condemned
Audience Reviews for This Property Is Condemned
½
"this property is condemned" would probably be the only romantic tale from tennesse williams with less dosage of cynicism and more of an elegy of yesterday's wine and roses, of course, also the fair youth permeated with fancies and wonderful perspective despite its predestination is ruin and decay. natalie wood plays alva starr, the glamour queen of a local boarding house with a nymphomaniac mother who literarily pimps her daughter to draw more business. and also a tomboyish sister who worships and idolizes her. regardless of the sordidness of her circumstances, alva beautifies the grim facts of life with her girlish imaginations, expecting the father who deserted the family would return to her bossom someday...then the arrival of one stranger owen(redford) from new orleans ignites her ablaze hope of escaping her blood-sucking leech-alike mother who simply uses her to get attention and money from men. unfortunately the mission of this attractive stranger is to terminate dreams, own legate is a railroad agent who dispatches the workers away for the company's demand. he sneers at alva for her lewdness and braggery, despising her for not refusing her despicable mother to assert herself, but secretly sympathizing with her unbearable state as a puppet of mama. their romantic bond would be the combination of reason and sentiments, drab realism stuck with magic wonders. alva is doomed because you cannot live on fancies and sheer romanticism while you have such a gruesome creature as a mom, why the mothers of tennesse williams' plays are the monstrous beings who devastate their seed's happiness to nuturize herself like an alien queen? mother is a like nightmarish creep who haunts our female protagonist around every corner, saboteuring her every chance of happiness, spitting at her dream pictures relentlessly, envious of her beauty which mother covets as an potential asset to drain. mother is the malicious villain within willaims' tales. eventually alva's sister wears her wretched torn scarlet gown stumbling upon the railroad tracks like a beggar fantasizing herself as a queen after alva dies of pneumonia, a grosteque irony in contrast of the glorious past, the colors of dreams faint as alva starr demises in solitude as the theme "wish me a rainbow" flows along like a funeral crooning tune. pure lyricism. (ps) edith head is in charge of wardrobe.
Veronique Kwak
Super Reviewer
This Property Is Condemned Quotes
There are no approved quotes yet for this movie.