This World, Then the Fireworks
(1997)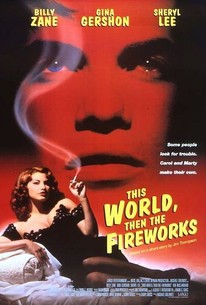 This World, Then the Fireworks Photos
Movie Info
Grifters Marty (Billy Zane) and Carol (Gina Gershon) are bad-to-the-bone twins whose devastating physical beauty is only equaled by their intense greed and the depths to which they'll sink to get what they want. Enter their intended prey, the ravishingly beautiful and sultry Lois Archer (Sheryl Lee, Twin Peaks), a repressed lady cop with some powerful needs and prime piece of beachfront property. But Lois is a woman with secrets of her own, and before long, brother and sister discover their would-be foil in nobody's fool. Co-starring Rue McClanahan (The Golden Girls), Will Patton (No Way Out) and Seymour Cassel (Rushmore), this sexy, stylish tale of passion and coldblooded murder is razor sharp film noir with a smooth velvet touch. This searing tales of lust and larceny was based on story by legendary pulp writer Jim Thompson (The Getaway, The Killing).
Critic Reviews for This World, Then the Fireworks
Audience Reviews for This World, Then the Fireworks
(1997 Director: Michael Oblowitz) I enjoyed this movie, though admittedly it was a little difficult to watch two incredibly gorgeous twins (one female, one male) living off their looks in less than moral ways. Oddly enough gorgeous Billy Zane's character met misfortune from his legitimate undercover career, causing him to return home. Rue McClanahan was a bright spot as their mother. In reviewing Ms McClanahan's filmography, I was surprised to learn that I have seen few of her movies. Anyone remember her character in a personal favorite, Starship Troopers??
This World, Then the Fireworks Quotes
| | |
| --- | --- |
| Marty Lakewood: | there aren't enough tears for all this sorrow... |
| Marty Lakewood: | There aren't enough tears for all this sorrow. |