Thomas and the Magic Railroad
(2000)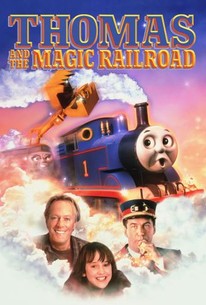 TOMATOMETER
AUDIENCE SCORE
Critic Consensus: Kids these days demand cutting edge special effects or at least a clever plot with cute charectors. This movie has neither, having lost in its Americanization what the British original did so right.
Thomas and the Magic Railroad Photos
Movie Info
The movie chronicles the adventures of a young girl called Lily, who sets off to visit her lonely Grandpa, but finds herself on a great adventure that leads to a meeting with the world's favorite steam engine, Thomas the Tank Engine, and the magical Mr. Conductor. The trio become involved in a classic good versus evil story that takes place in Mr. Conductor's special universe. At one end is the Island of Sodor, and at the other Shining Time, nestled deep in the Indian Valley. Linking these two worlds is The Magic Railroad. This harmonious world of magic and innocence is put in danger by greed and cynicism. However, Lily and Thomas, with the help of a special dog called Mutt, a young boy named Patch, Mr. Conductor Junior and a host of other colorful characters triumph, bringing the story to its happy end.
Critic Reviews for Thomas and the Magic Railroad
Audience Reviews for Thomas and the Magic Railroad
[img]http://images.rottentomatoes.com/images/user/icons/icon13.gif[/img] I dont like this americanisation of Thomas The Tank Engine as much as the British TV Series I loved when I was younger. I used to like this movie but now I see how adequate it really is.
Directors Cat
Super Reviewer
Thomas and the Magic Railroad is propaganda for kids, nothin more and nothing less.
Bradley Wright
Super Reviewer
½
Thomas The Tank Engine has been known for being the most popular TV show made for children of all ages and it goes on for generations ever since, and for some reason, it was based on the Shining Time Station TV show (the only show that I've haven't watched). I have one question before I start reviewing this movie that was based on the show: Is it fair to make fun of a movie you like from your childhood? Hardly, but I've got no time to waste. Time to review. The story focuses on Mr. Conductor as his magic gold dust is running low. Desperate to find it in order to get back to Shining Time, he embarks on a journey to Sodor to find the magic gold dust there. Meanwhile, Thomas the tank engine tries to find off the attacks of the evil Diesel 10 before he finds the lost steam engine and destroys it. Getting all the help from his cousin, his new friend Lily, and her grandfather, Mr. Conductor helps find the engine that has been hidden for years in order to find all of the magic gold dust that has also been hidden. What's so bad about this movie? The storyline was inconsistent, in my opinion. It had a lot of flaws and plot holes I don't even know how many they were. The storytelling was very poor, and even the script was so bland. What's so good about this movie? The cinematography was creative, the acting wasn't half bad, the pacing was good, the visuals were great the music score was very good, and most of all, it had the potential of the TV show despite the fact that the critics said it got americanized. Thomas and the Magic Railroad isn't good nor horrible either. It's a very mediocre family movie, but at least they brought the TV show to life on screen. It's worth a watch on VHS and DVD only. 5/10
Gavin Cresswell
Super Reviewer
Thomas and the Magic Railroad Quotes
| | |
| --- | --- |
| Mr. Conductor: | Sparkle sparkle sparkle! |
| | |
| --- | --- |
| Mr. Conductor: | (to James) I think that red is bright and cheerful, just like my sparkle. Or at least it was; and must be again. |
| Mr. Conductor: | [to James] I think that red is bright and cheerful, just like my sparkle. Or at least it was; and must be again. |
| | |
| --- | --- |
| Burnett Stone: | Well, my lady, the lights are all green for you now. |
| | |
| --- | --- |
| Mr. Conductor: | (as the narrator) I like helping out here. By the invitation of Sir Toppam Hatt, of course. |
| Mr. Conductor: | [as the narrator] I like helping out here. By the invitation of Sir Toppam Hatt, of course. |