The Thomas Crown Affair
(1968)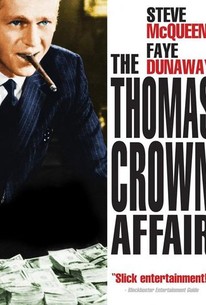 TOMATOMETER
AUDIENCE SCORE
Critic Consensus: Steve McQueen settles into the role with ease and aplomb, in a film that whisks viewers to an exotic world with style and sex appeal.
The Thomas Crown Affair Photos
Movie Info
Thomas Crown (Steve McQueen) is a self-made Boston millionaire who masterminds a bank heist in hopes of leaving it all behind. Tired of being part of the Establishment, he has hopes of pulling off the caper and flying to Rio. Erwin Weaver (Jack Weston) leads the cast of crooks who never actually meet Crown but manage to pull off the robbery without a hitch. Crown deposits 3 million in a Swiss bank account, pays off the crooks, and waits for the insurance company to repay the bank for the loss. Eddy Malone (Paul Burke) is the savvy detective who helps insurance investigator Vicky Anderson (Faye Dunaway) find the mastermind behind the heist. Thomas Crown Affair became one of the first films to employ many split-screen images throughout its running time, as devised by editor Hal Ashby. Michel Legrand's score was nominated for an Academy Award, and the song The Windmills Of Your Mind, written by Legrand with Alan and Marilyn Bergman took home the coveted Oscar.
News & Interviews for The Thomas Crown Affair
Critic Reviews for The Thomas Crown Affair
Audience Reviews for The Thomas Crown Affair
This movie wasn't bad, it was just way too boring, I didn't even watch it all. Some day I'll give it another chance maybe.
½
Nevermind the use and abuse of the so called avant-garde techniques like multiple split screen or neon lights fade out, It simply is a sensous and stylish cross between romantic melodrama and caper movie, in which the cool couple McQueen and Dunaway squeeze out their immense chemistry on the screen. The chess play/seduction scene is the best moment of the entire film.
Pierluigi Puccini
Super Reviewer
the 1968 "thomas crown affair" is the prototypical exemplification of 60s style over substance, and it is literily the milestone for the 60s idiocyncrasic aura, regarding its chic wardrobes to paneled montage cinematography to its french new wave influenced plot twist. of course, what sells would be steve mcqueen's maschismo as well as faye dunaway's icy coolness, purely star vehicle. inevitably, it flashes also the flatulency of manhood by its conspicuous materialism, the excess of luxury. mcqueen plays an extremely self-assured millionaire who engages at bank-robbery just to prove that he could make it. and dunaway would be the persistant insurance reward-hunter who persue after him. the sexual spark sizzles as they starts to get invovled personally in a romantic way. so eventually who wins? the sexual innuendo detonates laughably in the course of playing the chess game, and the camera keeps centering upon their seperate sultry gestures, then it melts into a kaledoscopic dazzle of colors as they kiss. and the process of mcqueen's bank-robberies is presented in multiple panels silmutaneously. all the oddities are apparently self-indulgent without coherency. besides, steve mcqueen seems sorta reluctant to pose the cary-grant-esque sly debonair mannerism in numerous suits. the ending might appear abrasive with its male-centered arbitrariness. mcqueen's character decides to challenge dunaway by revealing the destination of his next robbery to test her loyalty, so it's either him or her insurance case. but in either way, she loses anyway. then she chooses to stay true to her principle by reporting mcqueen's pickup spot. jaw-droppingly, mcqueen sets her up, and there's nothing but a telegram delivered to her that says it's over. it ends with her weeping in the graveyard and him grinning on the airplane seat. it's like announcing outloud: i have great fun trifling with this intriguing woman, and i pull it off so well, and also I WON! so generally "thomas crown affair" is about a cocky man who wanna demonstrate his omnipotency, an ultimate flatulent poise of imperious manhood. mostly it clings to its brutal cynicism instead of redeeming the story with a romantic ending. it flops as steven mcqueen could never be as suave as cary grant.
Veronique Kwak
Super Reviewer
The Thomas Crown Affair Quotes
| | |
| --- | --- |
| Thomas Crown: | It's not the money. It's me. Me and the system. The system. |
| | |
| --- | --- |
| Thomas Crown: | I did it once. I can do it again. |
| | |
| --- | --- |
| Vicky Anderson: | All right, Eddie, I'm immoral. So is the world. I'm here for the money, okay? |