Thor
(2011)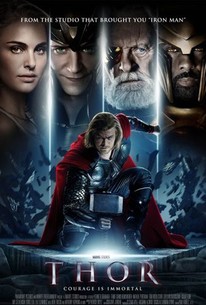 TOMATOMETER
AUDIENCE SCORE
Critic Consensus: A dazzling blockbuster that tempers its sweeping scope with wit, humor, and human drama, Thor is mighty Marvel entertainment.
Movie Info
The epic adventure Thor spans the Marvel Universe from present day Earth to the mystical realm of Asgard. At the center of the story is The Mighty Thor, a powerful but arrogant warrior whose reckless actions reignite an ancient war. As a result, Thor is banished to Earth where he is forced to live among humans. When the most dangerous villain of his world sends its darkest forces to invade Earth, Thor learns what it takes to be a true hero.-- (C) Paramount Pictures
News & Interviews for Thor
Audience Reviews for Thor
½
Despite the talent of the strong lead, who is also incredibly handsome and charismatic, this superhero blockbuster is very unimpressive and never takes risks, trying more to be a prequel to The Avengers than anything else. Besides, the character goes through sudden changes in his personality that are really hard to buy.
Carlos Magalhães
Super Reviewer
So we have the next big Marvel hero adaptation on the long highway to 'The Avengers' with 'Iron Man' so far being a surprise decent film, this time its Thor's turn to roll the dice. Again I am pleasantly surprised at how reasonably competent this film is, I thought this would be a hideous mess but actually its not too bad. I'm not gonna get carried away and say its a brilliant film as it isn't, in my opinion 'Iron Man' is better but this is OK despite the silly material. Branagh has done well in his attempt and done half the work in the casting, all players add good realism and gravitas to the cheesy plot allowing the film to just about get by. Hopkins, Hemsworth and Hiddleston are the best contributors of course and were great choices for the roles, they looked right and didn't come across camp in any way. The effects are decent and not too obvious, a very colourful and vivid film and some good stand out moments like the Rancor type creature on Jotunheim showcasing decent CGI. The Frost Giants looked reasonable but slightly childish for me whilst the giant metallic Destroyer looked rather B-movie-ish and tacky to be honest, a bit like Gort from 'The Day the Earth Stood Still' (1951). Asgard was impressive and colourful looking neat n sharp harking back to cityscape's of the new Star Wars trilogy and just as good. I'm not up on the whole Thor comicbook plot to be honest but I admit I still found faults with things in the film, obviously Thor and his homeworld are aliens, an alien race (which are exactly the same as humans? hmm) but also somehow manage to have horses ale roast beef pork etc...in their realm too? kinda silly methinks, oh and everyone speaks English it seems. There is nice humour throughout which is good, Thor getting accustomed to earth has good moments, but The Warriors Three felt way too farcical and lame frankly, they just came across as inept posh talking sidekicks much like C3PO from 'Star Wars', they also looked like characters from a kids cartoon which let down the rest of the quite good costumes. You never find out about the other realms, there is no real reason for why Odin goes into a coma or sleep and the Frost Giants did seem kinda lame, uninspired and unoriginal (if they were made for the film?) with a silly name. Of course if you know the comicbook all this might be common knowledge but for myself it isn't. Overall I liked this but lets face it it was pretty hokey really, a modern day Flash Gordon if we're being honest here, it wasn't camp but it was very very gentle and cartoony which I did suspect as Thor is a hard character to put on film I think. Its a valiant attempt but I just think it could of been better or a bit more serious and less like an action figure promotion.
Phil Hubbs
Super Reviewer
½
Superhero movies are aplenty and mythology films are well-known, "Thor" a combination of both genres directed by respected actor/director Kenneth Branagh walks that fine line well but not greatly. Thor is one of Marvel's most revered creations - a fallen God who is banished from his kingdom of Asgard to Earth by his father Odin due to his arrogance - and "Thor" the film does a valiant job in ensuring that they do not make any major mistakes. The problem with "Thor" lies in its scale: while the battles taking place in Thor's home realm are grand and epic, on Earth he eventually has to save a small town in ... New Mexico. Thor is inspired by Norse mythology, known as the God of Thunder, his signature being a powerful Hammer of which he is stripped of until he learns humility (very Excalibur-like down to the Hammer being stuck in a stone) - scale and grandness is implied just with his backstory, so the film is a bit of a snooze the moment he lands on Earth. It doesn't help that the Earthlings are pretty bland, Natalie Portman, Stellan Skarsgård and Kat Dennings can't do much with the generic material they are given and the whole Government-conspiracy storyline is a bit tired. The film also has to squeeze "Avenger" references into its story with presence of S.H.I.E.L.D. and a glimpse of Hawkeye (Jeremy Renner) - so while the film works hard, it doesn't move much. As for Chris Hemsworth and Tom Hiddleston who play central characters Thor and Loki respectively. Let's say that while Hemsworth has got the look and plays blustering blowhard really well, his line delivery and blank eyes are flat. Hiddleston, on the other hand, plays tormented Loki brilliantly. It's no surprise he'll get to reprise his performance as the central villain in "Avengers". Hiddleston doesn't take Loki over the top instead really showing the pain and torment behind his eyes. While "Thor" doesn't soar, it does have moments in which it scores - making it a solid but forgettable entry into the comic book pantheon.
Tony Gandía
Super Reviewer
Thor Quotes
| | |
| --- | --- |
| Loki: | Now if you'll excuse me, I have to destroy Jotunheim. |
| | |
| --- | --- |
| Odin: | Yes, I was a fool...to think that you were ready. Thor, Odinson, you have betrayed the express command of your king. Through your arrogance and stupidity you have opened these realms to the horror and desolation of war. You are unworthy of these realms, you are unworthy of these titles, you are unworthy...of the loved ones you have betrayed. I take from you your power, by my father, and his father before. I, Odin Allfather, cast you out! |
| Odin: | Yes, I was a fool... to think that you were ready. Thor, Odinson, you have betrayed the express command of your king. Through your arrogance and stupidity you have opened these realms to the horror and desolation of war. You are unworthy of these realms, you are unworthy of these titles, you are unworthy... of the loved ones you have betrayed. I take from you your power, by my father, and his father before. I, Odin Allfather, cast you out! |
| | |
| --- | --- |
| Laufey: | You know not what your actions would unleash. I do. Go now, while I still allow it. |
| | |
| --- | --- |
| Heimdall: | You would defy Loki, our king, break every oath you have sworn as Asgardian warriors and commit treason by bringing Thor back? |
| Sif: | ......Yes. |
| Sif: | Yes. |
| Heimdall: | Good! |