Thorns from a Rose
(2010)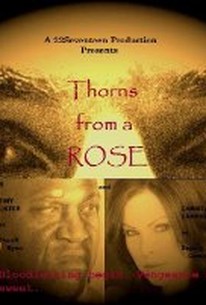 AUDIENCE SCORE
Critic Consensus: No consensus yet.
Movie Info
When a group of young adults convene to celebrate their doctor's retirement and a fellow friend's documentary on Juvenile mental health care, they have no idea that their past would return to haunt them. Robert Rose, son of a prominent African American family (mother the town Judge and his father a Doctor who lost his license) who was put in the juvenile research facility as a teen with other troubled teens diagnosed with conditions like OCD, ADHD, teen depression, etc. and other Social disorders under two Doctors (Dr. Dixon and Dr. Johnson) care who have two different types of treatment for the teens. The teens and the program are doing well except for Robert Rose who has lost favor with Dr. Dixon and the troubled teens. On the last night of the program the teens make one last prank on Robert Rose who in turn kills one of the kids and in turn the teens kill Robert Rose. The teens and Dr. Dixon cover it up as an accident and agree they never bring it up ever again and move on with their lives. After 10 years of success the teens do not know is that Robert Rose is still alive and graduated the Juvenile Program in to the Mental facility under Dr. Dixon's care and supervision. In the week of Dr. Dixon's retirement Robert Rose is to be transferred into a Government program and escapes, fully determined to seek his version of justice upon Dr. Dixon and his family, who kept him from his family and improperly diagnosed him. Rose finds out that the same teens who left him for dead are all celebrating Dr. Dixon's success as well as their own. With aid from his family the journey of Robert Rose leaves behind a path of blood and bodies and his determination to seek full retribution on his former "fellow" inmates, now convening to herald their Doctor's accomplishment. Robert Rose and his family seek vengeance in their small Arizona town, bringing a new meaning to the term serial killer. The only being who can save the town is the local Sheriff who too has his demons with the death of his wife from cancer and the accidental death of his son under the care of Dr. Dixon 10 years ago is determined to bring justice but to find out that the same person he is after is the one who killed his son. -- (C) Official Site
Critic Reviews for Thorns from a Rose
There are no critic reviews yet for Thorns from a Rose. Keep checking Rotten Tomatoes for updates!
Audience Reviews
There are no featured reviews for Thorns from a Rose at this time.
Thorns from a Rose Quotes
There are no approved quotes yet for this movie.