Thoroughbreds
(2018)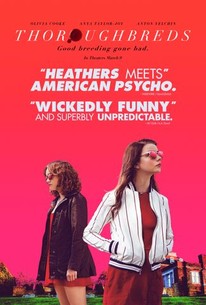 TOMATOMETER
AUDIENCE SCORE
Critic Consensus: Thoroughbreds juggles genres with panache, delivering a well-written and refreshingly unpredictable entry in the teen thriller genre.
Movie Info
Childhood friends Lily and Amanda reconnect in suburban Connecticut after years of growing apart. Lily has turned into a polished, upper-class teenager, with a fancy boarding school on her transcript and a coveted internship on her resume; Amanda has developed a sharp wit and her own particular attitude, but all in the process of becoming a social outcast. Though they initially seem completely at odds, the pair bond over Lily's contempt for her oppressive stepfather, Mark, and as their friendship grows, they begin to bring out one another's most destructive tendencies. Their ambitions lead them to hire a local hustler, Tim, and take matters into their own hands to set their lives straight.
News & Interviews for Thoroughbreds
Critic Reviews for Thoroughbreds
Audience Reviews for Thoroughbreds
½
While not exactly funny, witty, suspenseful or engaging enough, this mediocre comedy-thriller is at least proof of first-time director Cory Finley's talent behind cameras, as he manages to make a very cinematic film from a dialogue-heavy script that was originally written for the stage.
Carlos Magalhães
Super Reviewer
½
I love going into a movie think it's going to have a certain tone and predictable fashion, only to be completely surprised by the first few minutes. Thoroughbreds marks one of the highlightiIndies of the year, at least in my opinion. Upon viewing its first trailer a while ago, the story itself intrigued me, but it's definitely a little misleading, in the best way possible. I found myself on a roller coaster ride from start to finish. Although some may find this movie slightly inconsistent in terms of where it goes throughout the third act, I truly believe that worked in its favor as a whole. Thoroughbreds is a very unique movie that takes chances in ways you don't expect, and for that alone it warrants a recommendation from me. Thoroughbreds follows two young women as they reconnect after years of slowly growing apart. Throughout the first two acts, this is a very odd and quirky piece of independent cinema that takes some weird turns. Planning some very dark things together in order to solve their issues, they meet some very strange people along the way, making for some very interesting character development and revelations. I felt quite unnerved at times and the final act of this film had me cringing, and not necessarily in a good or bad way. This movie asks quite a lot of its audience as it draws to a close, but if you're sucked into this story, then you may just find yourself going along with it. Anya Taylor Joy continues to prove that she is a star in the making. Appearing in films such as Split, The Witch, and even Morgan, audiences around the world continue to be blown away by her performances. That being said, I don't think people give Olivia Cooke the credit she deserves. Appearing in movies like Me, Earl, and the Dying Girl and the recent Ready Player One, I believe she will have her big, big break one day. These two young actresses were perfectly cast in these roles and I bought into their off-beat and strange history together. I felt a sense of sadness watching this film as well, seeing as it was the final appearance in a film by Anton Yelchin, and he really brings his all to this role. He's only in a few scenes throughout this movie, but he has some powerful moments. His character provides far more emotional weight to the film than I was expecting. The way his character meets these girls and intertwines his own life with theirs was a very interesting revelation. In terms of the way this film is filmed and edited, I would be lying if I didn't feel I was watching perfection. These filmmakers set up some very unique shots and the way certain takes linger on specific things or characters in order to provide subtle answers for the audience was terrific. Thoroughbreds isn't for everyone, especially due to the way the movie boldly concludes, but I do believe there is a niche audience out there for it. In the end, Thoroughbreds is the type of film that is right up my alley and may even make it into the discussion of my favorites movies of 2018, but I would definitely need to explain myself. I can see many viewers losing interest due to its slow pace or being turned off by the twists and turns it takes, but I truly believe the decision these characters make, made for a great film experience. If you're up for anything, then I would highly recommend checking this one out. Strange, unique, well-written, and downright cathartic.
Thoroughbreds is a dishy, tart little treat that kept me squirming, laughing, and gleefully entertained. Olivia Cooke (Me, Earl, and the Dying Girl) and Ana Taylor-Joy (Split) are outstanding as privileged teenagers trying to resuscitate their former friendship through collaborative murder. Cooke plays Amanda, a sociopath who cannot feel anything, who is incurably honest, and has stopped caring what others think. Taylor-Joy plays Lily, a self-involved young lady that feels overwhelmed by life and is skilled at dissembling. Together, the girls scheme to kill Lily's boorish stepfather and enlist the aid of a hapless small-time dealer with big plans (Anton Yelchin, in his final performance) through blackmail. The story from writer/director Cory Finley is immediately engaging with how it naturally reveals the complicated histories between Amanda and Lily as well as what makes each questionable. These are two very interesting people and just watching their probing push-and-pull was entertaining enough, especially with such strong performances. The characterization of a sociopath without a heavy moral condemnation was refreshing. We assume Amanda will be the bad influence but it really becomes the other way around, with Lily faking for her own purposes. Thoroughbreds is more dread-filled and unsettling than conventional thriller, and while there are some gallows humor to be had from the abnormal characters, this is less a dark comedy. There are drawn out tracking shots and methodical push-in camera movements meant to build audience anticipation, and they're mostly effective. The first half is a bit more engaging than what it ultimately delivers as a climax. It's still satisfying and well handled, but Finley throws in some misdirects that don't add a rising sense of stakes. The stakes are really more personal, which works since the crux is on the relationship between the girls and whether they are being honest or manipulative with one another. By the end, I thought I could argue either way who was manipulative and when. Small irony: the last scene you see of Yelchin is him as a valet parking other people's cars. Nate's Grade: B+
Nate Zoebl
Super Reviewer
Thoroughbreds Quotes
There are no approved quotes yet for this movie.