Those Magnificent Men in Their Flying Machines
(1965)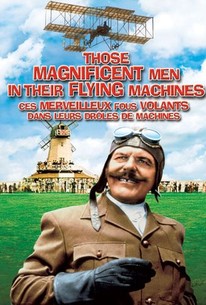 Those Magnificent Men in Their Flying Machines Photos
Movie Info
Ken Annakin's large-canvas comedy Those Magnificent Men in Their Flying Machines is set in 1910. In order to boost circulation of his newspaper, Lord Rawnsley (Robert Morley) offers 10,000 pounds to the first person who can fly across the English Channel. A huge number of hopefuls enter the contest, including the scheming Sir Percy Ware-Armitage (Terry-Thomas), who, with the help of his henchman Courtney (Eric Sykes), attempts to sabotage the other entries. There is also a love triangle featuring Orvil Newton (Stuart Whitman) and Richard Mays (James Fox) competing for the heart of Patricia Rawnsley (Sarah Miles). ~ Perry Seibert, Rovi
Critic Reviews for Those Magnificent Men in Their Flying Machines
Audience Reviews for Those Magnificent Men in Their Flying Machines
½
Another 60's comedy that I had seen years ago and re-watched (on tv) recently. I'm not sure if anyone on the production of this movie worked for Disney's live action division or if it is the general popularity of these big comedies during this decade, but this reminds me of numerous wholesome family comedy adventures. This movie is slightly more subversive though. There is a huge cast with many recognizable faces and several soon to be famous names. The credits are done with that kooky 60's animation. The bookmarks of the picture with Red Skelton, archival footage of attempted flights, and recreated clips of attempted flights are silly, but also curiously of historical value. Once we get into the central adventure of the air race I couldn't help but chuckle at the mostly slapstick misadventure. Sarah Miles as the feisty young English woman challenging a woman's role in mechanics and flight was impressive. The movie keeps track of such a large cast of international characters and yet moves along at a brisk pace. It is corny how the American and British are the ultimately winners. They fight over the girl besides, as expected. The American flyer Orvil (Whitman), who is of course portrayed as a cowboy, is a risk taking hero, but doesn't seem to be a real person. The last standing British flyer Richard (Fox) is a snobbish chauvinist. In short the comedy is full of stereotypes, but it is mostly good fun.
Byron Brubaker
Super Reviewer
One of those childhood classics they always showed on holidays to watch over and over again. Sure, it doesn't work quite as well anymore as it used to, with me growing up and expectations of movies changing so much. But the mere nostalgia was already worth the re-watch. A 1910 flying competition between pilots from several nations causing plenty of plane action and slapstick chases, making fun of pretty much all nations involved: the British snob, the German military man, the French womanizer, the Italian family man and the American hero, all are equally silly and still pretty likable, just like the movie itself. Unforgettable: Gert Fröbe doing his one man marching band sounds. When do we see a revival of these over the top adventure movies?
This live action version of an airborne wacky races is predictable slapstick but moustache twirling Terry Thomas is always worth watching as the original Dick Dastardly.
Those Magnificent Men in Their Flying Machines Quotes
There are no approved quotes yet for this movie.