A Thousand Clowns
(1965)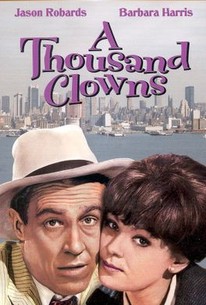 Movie Info
Jason Robards Jr. superbly re-creates his Broadway role in this 1965 film version of Herb Gardner's play. Robards plays Murray Burns, head writer of TV's popular Chuckles the Chipmunk show. Fed up with the rat race, Murray quits his job and retreats to his cluttered Manhattan apartment, where he carries on a nonconformist, laissez-faire existence with his 12-year-old nephew Nick (Barry Gordon). Though they're as close as father and son, Robards has never gotten around to legally adopting Nick, which brings him to the attention of social workers Sandra (Barbara Harris) and Albert (William Daniels). While Albert is disgusted by Murray's irreverence, Sandra falls in love with the free-spirited writer. Teaming up with Nick, Sandra tries to convince Murray to get another job. Arnold Burns (Oscar-winner Martin Balsam), Murray's agent-brother, is amused by his sibling's independence, but can find no work for him. Desperate not to lose Nick to the authorities, Murray offers to go back to Chuckles the Chipmunk -- aka Leo (Gene Saks), a neurotic bug who bullies his staff and hates kids. Young Nick is disillusioned by Murray's willingness to conform, and he throws an uncharacteristic temper tantrum. But the boy comes around to Murray's sudden realization that compromise is sometimes necessary if it's for the sake of someone you love. While the central message of A Thousand Clowns may grate on some viewers, the film is saved by the exuberance of the cast.
Critic Reviews for A Thousand Clowns
Audience Reviews for A Thousand Clowns
Jason Robards is a middle-aged, unemployed bachelor who is raising his 12-year-old nephew (Barry Gordon) in the heart of New York City. When confronted by representatives from NY social services, Robards is faced with the choice of either conforming to "acceptable" standards (getting a job) or risk losing his nephew to the bureaucracy of the child welfare system. I have an affinity for cerebral comedies and this is definitely a good example. It stimulates the mind, tickles the funny bone and touches the heart.
Randy Tippy
Super Reviewer
½
thanks to exnavykds for reminding me...
Kevin M. Williams
Super Reviewer
Jason Robards and Barry Gordon are astounding in this film. Funny, but at the same time, an air of sadness throughout the entire film.