Three
(2007)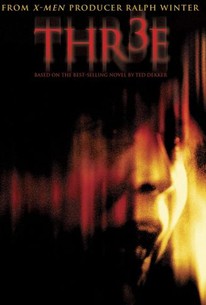 TOMATOMETER
AUDIENCE SCORE
Critic Consensus: Thr3e is a shoddily made, thrill-free thriller that isn't half as good as the several movies it borrows from (Adaptation, Saw, Se7en).
Movie Info
A psychotic madman with a penchant for sadistic riddles and impossible timelines corrals three unsuspecting individuals into a deadly game in which death draws closer with every second in director Robby Henson's dark, labyrinthine thriller. When the mysterious serial killer known as the Riddle Killer orders naïve seminary student Kevin Parson (Marc Blucas) to confess an unknown sin from his past, the clock soon begins to tick for this future man of the cloth. Fortunately for Kevin, police profiler Jennifer Peters (Justine Waddell) is determined to capture the elusive murderer before he strikes again. A well-known author who specializes in the subject of serial killers, Jennifer was scarred for life when she was previously targeted by the Riddle Killer and forced to watch as her brother was brutally murdered right before her eyes. As Jennifer and Kevin join forces to catch the Riddle Killer and end his murderous killing spree, Kevin's childhood friend Samantha (Laura Jordan) -- a former FBI agent-turned-insurance investigator -- returns to protect her friend, even if it means risking her own life. Now, with the minutes ticking away as Kevin struggles to recall the childhood sin that threatens to bring about his untimely demise, the three desperate souls journey into a grim world where your closest friend could be your worst enemy.
News & Interviews for Three
Audience Reviews for Three
½
Bad acting, this came across more as bad Slasher than a Thriller. The Killer sounded like a rip off of Jigsaw from the Saw series, the title is copied from 'Se7en' and the 'Riddle Killer' idea, well that has just come straight from the Batman comics. An unintelligent, unoriginal, very predictable film , which sounded much better than it actually was.
Lady D'arbanville
Super Reviewer
Sometimes I get too lost in a story to see whats ahead. This became a very good thriller for me. A little "Saw" mixed with a little "Seven" and this is what you may get. I think most that do not like the movie are just pissed they did not see what was ahead! Watch the movie for a good and you will enjoy it.... watch it to analyze the "deep meanings" "Saw" and "Seven" had.... you will be disappointed. This fall short of either 2 movies ("Saw" and Seven") but still had just enough to remain entertaining.
Thomas Johnston
Super Reviewer
For some reason, I think this movie actually was in theaters and for that I cry... This was a second-rate movie with a second-rate story. If you go to film school, the first thing they usually tell you is not to finish a movie where someone wakes up at the end and everything was a dream... this movie had that sort of twist ending that made no sense.
Christopher Haskell
Super Reviewer