The Three Ages
(1923)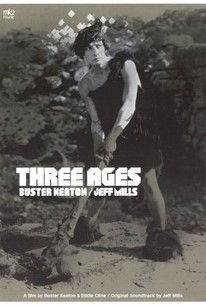 Movie Info
Three Ages is the first full-length comedy produced by and starring legendary comic Buster Keaton. An obvious parody of D.W. Griffith's Intolerance, Keaton and paramour Margaret Leahy are shown coping with the problems of the Stone Age, life in ancient Rome, and the Modern Age. The rival in all three passages is Wallace Berry. The Stone Age scene finds Buster and his wife constantly being followed by 11 children clad in leopard skins. In Rome, Buster is thrown to the lions before being pardoned by the Emperor (Horace Morgan). During the Modern Age, Keaton and Beery race in jalopies before Buster's car disintegrates into a scrap heap of twisted metal. Blanche Payson plays the giant Amazon in the first segment with big Joe Roberts playing the father of Buster's wife. Lillian Lawrence, Lionel Belmore, and Oliver Hardy also appear in this six-reel comedy classic.
Critic Reviews for The Three Ages
Audience Reviews for The Three Ages
This Keaton early comedy is fairly amusing but there is not much else into it, with an hour seeming almost like an eternity, but still it is nice to see it remastered after rediscovered in very bad condition, even if some damage in the image quality is still quite visible.
Carlos Magalhães
Super Reviewer
½
Easily my least favorite of all the Buster Keaton films I've seen, still a lot of fun but the film doesn't flow very well. Of course that's because the films aren't three individual and separate segments from each other, they intercut. If a particular segment is about jealousy, they start at the prehistoric age, then to Roman times and then "modern" times. That's how the movie plays out and I don't know but this particular manner of telling the story didn't work, for me. As mentioned, it just doesn't flow very well, but that's perfectly understandable when the movie is structured the way it is. This film doesn't feature some of Buster's funniest scenes or wildest stunts, though his jump between the two buildings, and the unintended fall, was pretty fucking crazy, but, again, this is still a very entertaining movie. The story is simple, not unlike a lot of Buster's films, it explores how love hasn't changed throughout the times, which is where the three ages come in. It's a fairly effective story, but, again, not one of Buster's best stories. The ending is definitely the best part, as I thought it was sweet. So all in all, this isn't a particularly good review, but this isn't one of Buster's most memorable features but it is entertaining and has plenty of laughs. Certainly recommend this if you must watch everything Buster Keaton ever did. If you only want to watch his best movies, then this isn't something that's required viewing.
Jesse Ortega
Super Reviewer
½
Essentially three shorts interlaced into a brief feature, "The Three Ages" parallels three similar love stories set in the Stone Age, ancient Rome and the present. The players (mainly our hero Buster Keaton, sweetheart Margaret Leahy and bullying rival Wallace Beery) are carried across all three tales and even act under their own names. Unfortunately, we're watching the film to laugh rather than to swoon, and the action is a bit light on memorable gags. It does have a unique chariot race, a funny scene between Keaton and a "lion," a wonderful way to protest a date applying makeup at the table and a brilliant sight gag with a ramshackle car that falls apart on the road. Perhaps best of all is a climactic, dangerous stunt where Keaton tries to leap between two buildings -- apparently, the jump did not go as planned but was used anyway.
Eric Broome
Super Reviewer
The Three Ages Quotes
There are no approved quotes yet for this movie.