Three Came Home
(1950)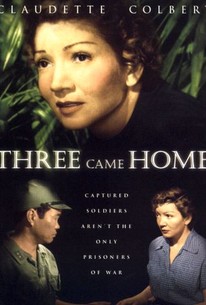 Movie Info
Based on the autobiographical book by Agnes Newton Keith, Three Came Home stars Claudette Colbert as Mrs. Keith. Trapped in Borneo during the Japanese invasion, Mrs. Keith and her British husband (Patric Knowles) are penned up in a prison camp along with several other subjects. Despite the humanitarian views of camp commander Col. Suga (Sessue Hayakawa), Mrs. Keith is subject to torture, starvation, and humiliation at the hands of the guards, with Suga helpless to intervene lest he incur the wrath of his own superiors. Three Came Home contains several unforgettable moments, including a comic interlude between the male and female prisoners that ends abruptly with a barrage of Japanese bullets, and the heartwrenching scene wherein Suga learns that his family has been killed in a bombing raid. Since lapsing into the public domain in 1977, Three Came Home has popped up innumerable times on cable television.
Critic Reviews for Three Came Home
Audience Reviews for Three Came Home
½
If war is hell for men, what must it be like for women? Caught with their men in Borneo in front of an invading Japanese army, and then taken prisoner, the movie focuses on an American wife (and their son) of a British public servant - ordered to remain at their posts. How they survive is played for poignancy, and Claudette Colbert (nearly too matronly for the role) is up for that task. The work belongs though to Sessue Hayakawa and his stunning portrayal of a man of the world figuratively caught and imprisoned by the same war. His reaction to the bombing of Hiroshima is reason alone to see this surprisingly (for a 'woman's movie') harrowing tale.
Kevin M. Williams
Super Reviewer
Even in the midst of a Japanese concentration camp, Claudette Colbert's poise and class shines through. What an amazing, beautiful human being.
Randy Tippy
Super Reviewer
Sensitive and humane portaryal of life in a Japanese women's prisoner of war camp with a great sense of location and a very moving performance by Sessue Hayakawa as the commandant. (A role he would reprise in David Lean's Bridge On the River Kwai)
Three Came Home Quotes
There are no approved quotes yet for this movie.