Three Colors: Blue (Trois Couleurs: Bleu)
(1993)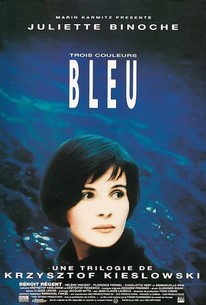 TOMATOMETER
AUDIENCE SCORE
Critic Consensus: Three Colors: Blue contains some of director/co-writer Krzysztof Kieslowski's most visually arresting, emotionally resonant work -- and boasts an outstanding performance from Juliette Binoche in the bargain.
Three Colors: Blue (Trois Couleurs: Bleu) Photos
Movie Info
A woman (Juliette Binoche) loses her composer husband and child in a tragic accident and must learn to deal with her drastically altered life. Benoît Régent, Florence Pernel, Charlotte Véry.
News & Interviews for Three Colors: Blue (Trois Couleurs: Bleu)
Critic Reviews for Three Colors: Blue (Trois Couleurs: Bleu)
Audience Reviews for Three Colors: Blue (Trois Couleurs: Bleu)
½
Kieslowski takes us in a painful incursion into grief and heavy suffering as he creates an intriguing association between sorrow and emotional liberty (a terribly ironic interpretation of the color blue in the French flag), and Binoche is wonderful as a woman torn by lost.
Carlos Magalhães
Super Reviewer
You'd be hard pressed to find much criticism about the first film in Kieslowski's mediation on the central tenets of the French Revolution, but here goes. You know how the vast majority of people roll their eyes at any mention of foreign or art house cinema? Movies like Blue are the reason why. Pretentious, showy, artificial and nowhere near as profound as it thinks it is, this film centers around one woman's grief following the horrific accident that claimed the lives of her husband and only daughter. I'm all for ambiguous mood pieces, but what happens when one takes minimalism to its limit with a largely vacant protagonist? What is really being communicated? What is this film saying about grief, coping and the pursuit of repairing a broken life that hasn't been said far better in countless other films? Kieslowski's gimmicky directing, painfully obvious symbolism and nonsensical camera tricks are stilted at best, and absurd at worst. And that score. You know, the laughably invasive one that bulldozes you right before he cuts to black... only to reopen on the same scene? It's self serving enough to make John Williams blush. It doesn't take a genius to recognize that this trite score seems to swell during Julie's (Juliette Binoche) moments of specific introspection (get it? Because her husband's music/legacy/memory haunts her. How clever!), but I couldn't help but roll my eyes upon seeing Kieslowski go back to this well time and time again. And that ending. It seems to start with Julie having sex in a glass box full of water (?), and ends with an overwrought roll call of all the film's characters looking deep in thought. What is this, a film school thesis project? I've read countless articles that defend this film's abstract (i.e. meandering) nature by calling it "poetic cinema." Put Blue up against anything from Bunuel, Fellini or Jodorowsky's canon and it'll pale in comparison. The aforementioned directors deal in poetics as a means to tell a story, to explore a character. They don't need to trout out every single trick in a filmmaker's arsenal to cover up for shallow, half-baked ideas. If you're like me, and constantly feel compelled to defend art house foreign cinema from the mediocrity that dominates mainstream cinema, do not present Blue as evidence. It only reinforces every single stereotype.
Jonathan Hutchings
Super Reviewer
A very dark, sad movie with which to kick off a trilogy of films about the French motto of liberty, equality, and fraternity. This one was a little too high brow for me, but the cinematography was always very beautiful.
Ross Collins
Super Reviewer
Three Colors: Blue (Trois Couleurs: Bleu) Quotes
There are no approved quotes yet for this movie.