The Three Faces of Eve
(1957)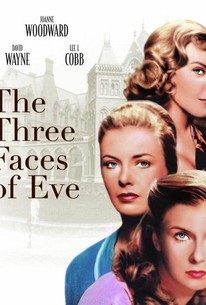 The Three Faces of Eve Photos
Movie Info
When Alistair Cooke shows up to introduce Three Faces of Eve, we know that the fact-based story will bear more than a little fidelity to truth. Joanne Woodward won an Academy Award for her portrayal of Eve, a young Georgia housewife suffering from multiple personalities. Eve's husband (David Wayne), confused by his wife's aberrant behavior when assuming her two "other selves," seeks out help from a psychiatrist (Lee J. Cobb). Carefully probing Eve's subconscious via hypnosis, the doctor finds out that, though each of Eve's personalities is aware of the other's existence, none are related. After months of therapy, Eve is purged of her negative selves and is totally cured. Ironically, Joanne Woodward would herself play a psychologist confronted with a multiple-personality case in the Emmy-winning 1976 TV movie Sybil. ~ Hal Erickson, Rovi
Critic Reviews for The Three Faces of Eve
Audience Reviews for The Three Faces of Eve
½
It's not the fault of anyone in 1957 that their serious take on a serious malady hasn't aged well, but it simply hasn't. Done better since then (the recent Split comes to mind) this picture not only suffers in comparison to recent works but very nearly comes off as a comedy unintentionally. The actors do the best they can with material that has been watered down for the small town tastes of 50's audiences, best represented in the work by the underappreciated David Wayne.
Kevin M. Williams
Super Reviewer
½
Guess the shifting of personalities were simplified for a laymen to understand it easily. While I liked the performances, I found it difficult to swallow the stuff and be mesmerized by its taste. I found this in the suggestion box for Sybil, and find it perfectly fit in there, be it for MPD or for the genuineness of their story. Cooke starts it with an ironic note of "This is a true story" comment, and was good as a narrator. The movie hasn't dated well, and I'd have liked Hitchcock to have treat this extraordinary (as for its time) story.
familiar stranger
Super Reviewer
This film is the portrait of a woman with multiple personality disorder. I think Ken Hanke of Mountain Xpress best summarizes my opinion of this film: "It once seemed daring[;] now it seems simplistic." At the time, 1957, this film probably portrayed a little-known condition with little-known Freudian treatment, so that the popular audience had to be assured of the subject's verisimilitude, hence the framing narrator vouching for the film's accuracy to a point that the narrator "doth protest too much methinks." But now, Eve's condition is portrayed more like Thing from another World with magical and threatening music toning in every time one of Eve's personalities appears. It becomes heavy-handed, and for an audience that has seen Raising Cain, among all the other films about multiple personalities, it's trite. That said, Joanne Woodward is fantastic, fully creating each personality and delivering a performance that of the "they don't make 'em like that any more" variety. I also liked the film's feminist overtones. Ralph is an appropriate villain, and making him the villain, the film impugns patriarchal culture. The story's construction is also faulty in parts. There's no need for Woodward's song, and who the hell is Earl? He suddenly appears like the deus ex machina he is, and we have no reason to think of him as a worthy goal. Overall, The Three Faces of Eve is a film to see because it's a classic, but unlike most good classics, it has been imitated and refined to the point that it lost its originality and spark.
Jim Hunter
Super Reviewer
The Three Faces of Eve Quotes
There are no approved quotes yet for this movie.