Three Kings
(1999)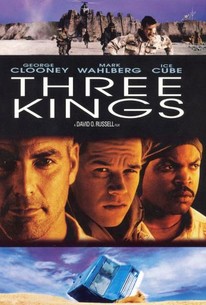 TOMATOMETER
AUDIENCE SCORE
Critic Consensus: Three Kings successfully blends elements of action, drama, and comedy into a thoughtful, exciting movie on the Gulf War.
Movie Info
The Gulf War is over, and three soldiers want to go home rich. Major Archie Gates retires in two weeks. Sergeant Troy Barlow is a new father. Chief Elgin is on a four-month paid vacation from Detroit. Saddam Hussein stole a great deal of gold from Kuwait, and these soldiers have no problem with stealing it from him. But on their way to collect their booty, they bear witness to the the disturbing results of the war effort. President Bush has encouraged Iraqi citizens to fight back against Saddam and pledged to support them, but when they rise up, they get NO American support, and they're getting slaughtered. As the soldiers realize the true situation in Iraq, they're confronted with their own humanity, and they're forced to rethink who they are and what they're doing.
Critic Reviews for Three Kings
Audience Reviews for Three Kings
This is quite simply the best anti-war movie since Catch 22. Wild, whacko, irreverent, chaotic, you are never sure what will happen next or where your loyalties lie. The innate utter stupidity of war is beautifully exposed, as are the often all too ordinary motivations of those who participate in it - lust for adventure, fame, promotion, wealth, but also sudden compassion, honesty and reflection. A roller coaster ride of action and thrills with sudden counterpoints of instant horror that make you think and ashamed of yourself for laughing out loud just a moment before. If this doesn't shake some holy beliefs in the truth of what we are told, and the justification for what we are doing, nothing will. Highly recommended! 4 Stars 4-2-14
Bruce Bruce
Super Reviewer
[img]http://images.rottentomatoes.com/images/user/icons/icon14.gif[/img]
Directors Cat
Super Reviewer
½
A great war film with flawed, unheroic characters. Captures the mercenary spirit of (some) soldiers which undoubtedly exists but is rarely portrayed in war films. There is a beautiful sense of isolation and desperation depicted in this gritty film.
Christian C
Super Reviewer
Three Kings Quotes
| | |
| --- | --- |
| Major Archie Gates: | They helped us find it, Ron. We made a deal. It's a soldier's honor, ya can't fuck 'em now. |
| | |
| --- | --- |
| Sergeant Troy Barlow: | Okay. Well, then you choose who we take. Tell the others it's not convenient and they're gonna have to die because I can't do that, Chief, okay? You're gonna have to do that yourself. |
| | |
| --- | --- |
| Conrad Vig: | Come on, man, this is good music. Man, Judas Priest'll pump you up, man. |
| Chief Elgin: | No. We're not listenin' to that headache music. Stop. |
| Conrad Vig: | Just one song. |
| Chief Elgin: | What you need is that Easy Listenin' Classics. |
| Conrad Vig: | (reacting to Chicago's "If You Leave Me Now") I do not need that. |
| Chief Elgin: | You need somthin' to calm your nerves. |
| Conrad Vig: | Not Easy Listenin' Classics. |
| | |
| --- | --- |
| Walter Wogaman: | Can I have my pants, please? Pants, on my legs. |