Three Little Words
(1950)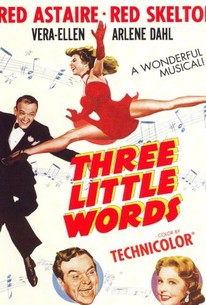 AUDIENCE SCORE
Critic Consensus: No consensus yet.
Three Little Words Photos
Movie Info
MGM's Three Little Words is a "twin" musical biopic, covering the lives and careers of songwriters Bert Kalmar and Harry Ruby. Fred Astaire plays Kalmar, a frustrated magician, while Red Skelton is cast as Ruby, a wannabe baseball player. After "meeting cute" during a disastrous vaudeville show, the oil-and-water Bert and Harry become a popular songwriting team, dashing off such favorites as Who's Sorry Now?, Nevertheless, So Long Oo-Long, I Wanna be Loved by You, All Alone Monday and the title song (the film unfortunately skimps on Kalmar and Ruby's Gilbert-and-Sullivan style novelty ditties, with the exception of Hooray for Captain Spaulding, Groucho Marx' signature tune in Animal Crackers). Adhering more to MGM formula than the facts, the script contrives to have Kalmar and Ruby split up over a trivial misunderstanding, only to be reunited by their wives for an "all is forgiven" radio broadcast hosted by bandleader Phil Regan. Vera-Ellen co-stars as Kalmar's vaudevillian wife Jessie Brown, while Arlene Dahl portrays Ruby's movie-star spouse Eileen Percy. Gloria DeHaven is seen as her own mother, Mrs. Carter DeHaven; and Debbie Reynolds plays "boop-a-doop" girl Helen Kane, her singing voice dubbed in by Ms. Kane herself. Though not quite as humorous as the subject matter would seem to dictate (Red Skelton gets his biggest laughs in the scenes wherein he, as Harry Ruby, participates in spring training with his favorite baseball club) Three Little Words is an excellent example of MGM's musical unit at the height of its powers.
Critic Reviews for Three Little Words
Audience Reviews for Three Little Words
Routine musical, at least as routine as it can be with talents like Astaire and Vera-Ellen in it, they're well matched and when they dance the picture lives and it is beautifully shot but it just doesn't have that zip that the best MGM musicals do.
Three Little Words Quotes
There are no approved quotes yet for this movie.