3 Needles
(2006)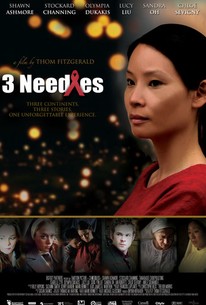 Movie Info
"Three Needles" is a drama that visits rural China, a plantation in South Africa, and Montreal's porn industry, to tell three separate yet universal stories, rooted to struggles with the HIV pandemic. In China, Ping is a pregnant young woman running a black market blood collection scam that creates a mini epidemic in a rural village. In Montreal, Denys is a porn actor hiding his positive HIV status in order to continue working and supporting his mother--who herself goes to extreme lengths to provide for the family's future. And, in Africa, Sister Clara is a young novice nun, driven to convert the rapidly dying Africans to Catholicism before it's too late; she makes a desperate bargain with a corrupt plantation owner to help prevent the spread of HIV in the region, bringing two nuns, who are of her same order, to accompany her on the journey.
News & Interviews for 3 Needles
Critic Reviews for 3 Needles
Audience Reviews for 3 Needles
½
[font=Century Gothic]A few years previously, writer-director Thom Fitzgerald made a film, "The Event," about a man dying of AIDS in New York City. With his latest film, "3 Needles," he brings a global perspective to the edidemic in three segments:[/font] [font=Century Gothic][/font] [font=Century Gothic]"The Fortitude of the Buddha" - In southern China, Jin(Lucy Liu), a very pregnant blood smuggler, sets up a blood donation unit in a village to pay locals $5 apiece for their blood. A poor farmer, Tong Sam(Tanabadee Chokpikultong), is too sick to give but he volunteers his 11-year old daughter, Qi(Yotaka Cheukaew), instead.[/font] [font=Century Gothic][/font] [font=Century Gothic]"The Passion of the Christ" - In Montreal, a porn star, Denys(Shawn Ashmore), is faking his HIV blood tests with his invalid father's(Aubert Pallascio) blood. Eventually his ruse is discovered.[/font] [font=Century Gothic][/font] [font=Century Gothic]"The Innocence of the Pagans" - In Africa, three nuns(Olympia Dukakis, Sandra Oh and Chloe Sevigny) arrive not to care for the large amount people suffering from AIDS, but to proselytize.(Thus, explaining why missionaries are some of my least favorite people.)[/font] [font=Century Gothic][/font] [font=Century Gothic]"3 Needles" is an ambitious movie that is occasionally powerful and beautiful. Through an understated style with little dialogue, the movie tells three stories that do a good job of showing how AIDS can flourish through self-interest and exploitation but also a way of fighting it with activists united on a global scale. In the end, the people of the world need to communicate better with each other to improve the world we live in.[/font]
3 Needles Quotes
There are no approved quotes yet for this movie.