Three O'Clock High
(1987)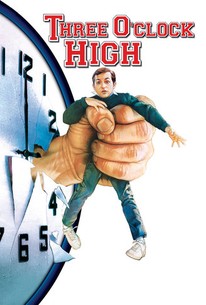 Three O'Clock High Videos
Three O'Clock High Photos
Movie Info
The first feature film from director Phil Joanou (State of Grace), Three O' Clock High chronicles a high school nerd's much hyped after-school bout with the infamous class bully. When the impish Jerry Mitchell (Casey Siemaszko) is assigned to interview the new transfer student with a supposedly violent past, Buddy Revell (Richard Tyson), he makes the fatal mistake of touching his subject. Revell, who hates being touched, responds by challenging the unwilling Mitchell to a fight at three o'clock in the parking lot. Spanning the course of the school day, the film follows the disaster-bound Mitchell as he soils his good-boy image through various misguided attempts at averting the fight. Also making noteworthy appearances in the film are Jeffrey Tambor and Philip Baker Hall.
News & Interviews for Three O'Clock High
Critic Reviews for Three O'Clock High
Audience Reviews for Three O'Clock High
When you think of classic 80's teen films, The Breakfast Club, Weird Science, Pretty in Pink and all other John Hughes films quickly come to mind. But like the horror genre, there has been other great films overshadowed by the more popular films. I think that this is the case with Three O'clock High. This is a superb Teen comedy that has had the misfortunate of being a forgotten gem of the genre. This is a well acted film, one that has impressive performances from its lead actors, and the film also some well written characters as well. Three O'clock High is a real treat, and everything about the film is very well done in such a way that it capture the feel of high school, along with its dilemmas. The film features an astounding soundtrack by Tangerine Dream, whose music greatly enhances some key scenes, which is only perfected by Cinematographer Barry Sonnenfeld. Sonnefeld's camerawork is terrific here, and the way that he has lensed the film adds something quite unique to the atmosphere of the film. Three O'clock High is a terrific picture, one that deserves to be rediscovered. I think it's a great shame that the film got overshadowed by other genre film, but hopefully you can rediscover this hidden gem. This is a very funny film, one that uses its cast quite well, and if you enjoy this genre, you're definitely going to love this film. With some wonderful performances by Casey Siemaszko and Richard Tyson, you have a highly entertaining comedy that is never boring, and even if it's not perfect, you can forget its flaws, and enjoy this film for what it is, a forgotten teen comedy that is well worth a second look. If you've enjoyed all of the films by John Hughes, but want a film of the same decade, that has effective comedy, teen angst and other issues, Three O'clock High is well worth seeing, and is is one of the best forgotten 80's comedies that I have seen.
½
This hilarious teen comedy is a lot of fun, I love it, it should be added to the list of essential 80s teen movies! I highly recommend it.
Three O'clock High is a funny 80's high school underdog story. So fun!
Alexis Nomm
Super Reviewer
Three O'Clock High Quotes