Three of Hearts
(1993)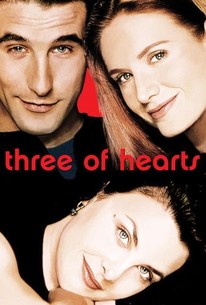 Movie Info
If there had been no production code in force for American films of the 1930s, Three of Hearts would have made the perfect screwball comedy: a love triangle between a lesbian, a hired male escort, and a bisexual woman. Connie (Kelly Lynch), a lesbian, is a nurse who has fallen in love with Ellen (Sherilyn Fenn), a bisexual teacher at New York University who has just ended a bitter love affair with a man. Connie is in love with Ellen, so is comes as a complete shock to her when Ellen announces that she "needs space" and wants to move on to other relationships. Connie is devastated and determined not to let Connie get away. At the height of this emotional crisis, Connie hires Joe (William Baldwin), a male escort, to accompany her to her sister's wedding. Connie and Joe have a fine time at the wedding and Connie hatches an idea to get Ellen back: Joe will turn on his charm and get Ellen to fall in love with him, then suddenly dump her. Hating men even more than before, Connie figures this will drive Ellen back into Connie's arms. But all the plans come to naught when Joe falls in love with his intended victim, Ellen.
Critic Reviews for Three of Hearts
Audience Reviews for Three of Hearts
Urgh, this was appalling. One of those "look at me, I'm so trendy" early 90s films that flirted with bisexuality and/or a girl-guy-girl love triangle; the desperation here is palpable and the writing, acting and direction are all sub-sub-par. I sat though this when - for some reason I hope never to explain - I had a fixation for William Baldwin films. I don't want to talk about this anymore.
Daniel Parsons
Super Reviewer
Three of Hearts Quotes
There are no approved quotes yet for this movie.