Three Outlaw Samurai
(1968)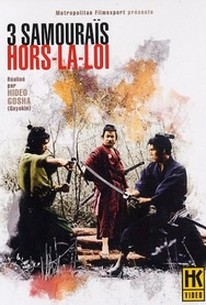 Three Outlaw Samurai Photos
Movie Info
A battle-scarred ronin (Tetsuro Tamba) gets caught up in a murderous plot involving a pair of samurais (Mikijiro Hira and Isamu Nagato) dispatched on a murderous mission of vengeance. An unscrupulous magistrate's daughter has been abducted by a rebellious band of peasants, prompting the malevolent dignitary to order their immediate execution. But as the magistrate's henchmen prepare to carry out their bloody deed, they encounter a solitary ronin who has no fear of death, and a strict code of honor. A feature length prequel to the popular Japanese television series of the same name, Three Outlaw Samurai was the debut feature from acclaimed chanbara specialist Hideo Gosha (Sword of the Beast, Death Shadow). ~ Jason Buchanan, Rovi
Critic Reviews for Three Outlaw Samurai
Audience Reviews for Three Outlaw Samurai
½
"Three Outlaw Samurai" looks stunning on it's new Criterion released Blu-ray and is showcasing Hideo Gosha's skill even during his first feature film! The story is simplistic and basic but is conveyed with such depth and beauty, it is far from just a standard samurai flick. The cinematography is beautiful and catches the beautiful backdrops and scenery as well as all the action going on throughout the struggles of the peasants and samurai. The film features detailed and realistic swordplay and is a pleasure to watch for the duration of the film. While the story is basic it is also very witty as well and puts the samurai honor code (Bushido for those of you in the know) on it's rear and challenges many traditional Japanese ideals. A key example is near the end of the film when all the evil samurai have been defeated all the peasants have to do is take the petition to the Lord who is right in front of them, yet no one steps up due to fear. In the end the three outlaw samurai have done great good and stood up for what's right but the peasants they fought for don't appreciate or step up to the plate and essentially made the three's struggle in vain. This realistic and poignant realization is quite unique and really says what the Director wants to say about people and culture.
Chris Browning
Super Reviewer
½
a fantastic film. a solid concept and good characters although one dimensional for the most part. the execution was, at times, a bit clumsy, but overall the themes of the story were so effective, well thought out, and truthfully cynical.
Three Outlaw Samurai Quotes
There are no approved quotes yet for this movie.