Three the Hard Way
(1974)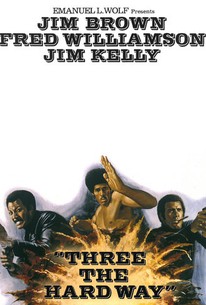 Three the Hard Way Photos
Movie Info
In this film, three men take on a neofascist organization. The avowed purpose of this all-white hate group is to "cleanse" Los Angeles, Detroit, and Washington D.C. of all blacks. To do this, they plan to poison the drinking water with a secret formula that affects only African Americans.
News & Interviews for Three the Hard Way
Critic Reviews for Three the Hard Way
Audience Reviews for Three the Hard Way
Jim Kelly, Jim Brown, and Fred Williamson star in an action film directed by Gordon Parks, Jr. with music by The Impressions!?!? HOLY SHIT!!! This sounds like a blaxploitation dream come true. For as fun and entertaining as this movie is however, it is a disappointment since it is not the masterpiece it had the potential to be. That's a damn shame too. I still like this movie, even though it failed to live up to my expectations. The plot involves a group of white supremacists who plot to town the water supplies of three major American cities. The substance they plan to use is lethal...only to African Americans. It's actually a pretty interesting idea. I now know where they came up with the similar plot used in Black Dynamite. The main issue with this film is the script itself. Things are pretty thin and undercooked ,and there's no real character developent. In fact, I can't really remember how the characters are supposed to be connected. I should probably dock this one some more points, but the csst is good, and they're pretty likeable, and the action rocks. That, and the music is pretty hard to dislike as well. Overall, this is a fair enough action romp, even if it's flawed and leaves something to be desired.
Chris Weber
Super Reviewer
½
Far-fetched, comic-bookish, predictable, gratuitous, but filled with all you'd want from the genre and more while remaining one of the finest examples of the Blaxploitation movement with the simple plot and obvious "Black Vs. White" battle lines. The bad guys are played seriously and straight-toned, no matter the incompetency. Jim Kelly, Jim Brown, Fred Williamson along with band The Impressions join forces in Gordon Parks Jr.'s lesser known film and guarantee you a good time. The pace of the film is relentless and just great fun to watch.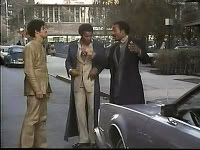 El Hombre Invisible
Super Reviewer
Three the Hard Way Quotes
There are no approved quotes yet for this movie.