Three to Tango
(1999)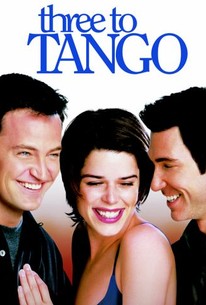 Movie Info
In this romantic comedy of mistaken identity, Oscar Novak (Matthew Perry) and Peter Steinberg (Oliver Platt) are a pair of struggling but talented Chicago architects given the chance of a lifetime: Charles Newman (Dylan McDermott), an extremely wealthy business tycoon, is considering hiring them to design a multi-million dollar cultural center. However, Oscar and Peter aren't the only ones who've been asked to contribute ideas for the project; Decker and Strauss (John C. McGinley and Bob Balaban), two highly successful designers that Oscar and Peter used to work for, have also been approached by Newman, who thinks that a competition between the two teams would be good fun and good press. Oscar is determined to show his dedication to the job, so when Newman asks him to start keeping tabs on his girlfriend Amy (Neve Campbell), he's happy to oblige. Oscar proves a sad excuse for a private eye, and finds himself falling in love with the woman that he's supposed to trail. To complicate matters, Charles gave Oscar the assignment because he was sure that Oscar is gay, and he hasn't been shy about telling people; soon Amy is convinced, along with most of Chicago. And while Oscar doesn't want to upset Newman, he also doesn't want to start living a lie, especially one that would keep him away from the woman he loves. So when Oscar is named Chicago's Gay Professional of the Year, what's a (straight) guy to do? Three to Tango features such familiar TV faces as Matthew Perry from Friends, Neve Campbell from Party of Five, and Dylan McDermott from The Practice.
Critic Reviews for Three to Tango
Audience Reviews for Three to Tango
I liked this one and I thought the cast was great. Oliver Platt was awesome in this role and he played off well with the others. It was a simple story but the actors made you care about what was going to happen.
Jason Spencer
Super Reviewer
Three's a crowd! Rom com love triangle.
Candy Rose
Super Reviewer
½
A very funny and like-able rom-com
Stuart Brooks
Super Reviewer
Three to Tango Quotes
| | |
| --- | --- |
| Peter Steinberg: | Oscar, about Amy... u know there is plenty of fish in the sea, right? |
| Peter Steinberg: | You do know there are other fish in the sea? |
| Oscar Novak: | Yeah, i used to think like that. but what if u find "the" fish? |
| Oscar Novak: | But what if you found *the* fish? |
| | |
| --- | --- |
| Oscar Novak: | I'm not an object! What happened with getting to know each other first!!!? |
| Oscar Novak: | I'm not an object! What happened with getting to know each other first? |