Throne of Blood
(1957)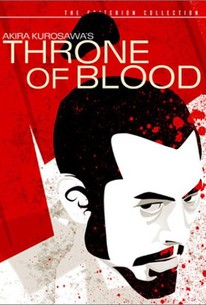 Movie Info
This moody and violent drama is the Japanese version of Shakespeare's "Macbeth." Even translated into the Japanese language, the timeless story of political intrigue, murder, greed and revenge remains a classic.
Critic Reviews for Throne of Blood
Audience Reviews for Throne of Blood
½
Akira Kuroswa crafts yet again another stunning, bold; epic that is Throne of Blood. Brilliantly acted and directed, the film features an intense atmosphere that elevates the story and is a stunning picture from start to finish. I really enjoy Kurosawa's Samurai films, and he brought something to the genre that made his work truly standout. Seven Samurai was his masterpiece, but Throne of Blood continues the tradition of telling a very good story set during the time of the Samurai. With tense atmosphere to really elevate the plot, Throne of Blood delivers a stunning film experience that captivates you from start to finish. Akira Kurosawa's always managed to tell sweeping stories with his films, and in doing so, he was able to make several highly entertaining and memorable pictures. The tone of the film is dark, and like Seven Samurai before it, unfolds steadily to really grab your attention with strong visuals and breathtaking set pieces. Overall this is a beautiful piece of cinema that wonderfully shot, and Kurosawa's always knew how to craft picture that used breathtaking cinematography to really elevate the film in a way that it needed to be. In the case of this film, the cinematography helps set the tone, atmosphere that is needed to tell such a story, and it makes for a truly engrossing and highly memorable picture that is sure to appeal to genre fans looking for bold, atmospheric and ultimately epic films that tell simple, yet good stories to really grab your attention. Thrones of Blood is yet another finely crafted epic from a director who has mastered the genre, and after this film, I am surprised that Kurosawa has always kept making consistent films. With that being said, he's one of the few filmmakers who has delivered time after time, and he never disappointed. Throne of Blood is a stunning film that is a must see.
½
From the Criterion Collection Spine Number 190. Throne of Blood is a masterpiece by one of the world's greatest film makers at the height of his powers. Only Kurosawa could take the essence of Shakespearian stage drama and incorporate it into the medium of film as a dynamic tour de force. Yet at the same time he remains faithful to elements of Noh (a stagy traditional Japanese play-form in which design and movement are minimalized). A seeming contradiction, dynamism and static-ness yet Kurosawa masters both in the same medium. As usual; acting, writing, cinematography, sound, direction and production are all pitch perfect. In this second Shakespearian based film by Kurosawa, focus is on the interplay of fate, free will and the fine thread the human psyche uses to weave the two together. On a more simpler level it is a man living and dying by the sword. In short what goes around comes around. What comes around for Toshiro Mifune as he gets his just deserts is a scene with straight as an arrow, perfect direction by Kurosawa leading to quite a pointed culminatin of events (pun intended...see the movie you'll understand). Bonus features include excellent linear notes as well as the superb commentary of Donald Richie. Few people are more knowledgeable about film and Japanese film then he. The commentary is almost as interesting as the movie itself. As usual Criterion presents its film in pristine condition. Some may complain that Criterion is too pricey but with them you get the best cinema has to offer. You cannot go wrong. One Kurosawa masterpiece packs more poignancy, punch and philosophy then 10 lesser films thus you get 10 times the movie at 5 times the price, really quite a deal if you look at it that way, 3-8-13
Bruce Bruce
Super Reviewer
½
Throne of Blood is basically William Shakespeare's Macbeth, only set in Feudal Japan. The setting is quite fitting given the subject matter, and in the hands of a master like Akira Kurosawa, you know the results will be great. And great they are. I'm familair with the source material (I read it way back in high school), but even though I don't have it committed to memory, I know enough to be able to say that, despite taking some liberties with the material, Kurosawa did a great job of getting the general point across. So, while it succeeds as an adaptation, it really works best as just an epic character study about power, control, paranoia, ambition, and guilt. The costumes, sets, and period details are all top notch and brimming with accuracy. The cinematography is quite gorgeous, and I love the repeated shots of fog. The only thing that really sorte of bugged me (and even then only from time to time was the music. It's period appropriate, but it sometiems comes in very jarringly, and isn't always easy on the ear. As for the acting, I probably don't need to say much. Mifune is perfect as always, and his work only solidifies the fact that he was and still is the greatest Japanese actor of all time. Isuzu Yamads is great as the Lady Macbeth counterpart, and whoever played the forest spirit is effectively creepy and forboding. There's a great sense of style and mood here, and the battles are quite thrilling (both the fighting kind and the emotional/mental). The end sequence is quite brilliant, as we see Mifune's Washizu give a daring and intense final stand against an approaching group of soldiers. All in all, this is excellent stuff. Then again, Kurosawa almost always delivered, so everything I just wrote pretty much goes without saying. Whether you dig Shakespeare or not, give this film a go. It's awesome.
Chris Weber
Super Reviewer