Throw Momma from the Train
(1987)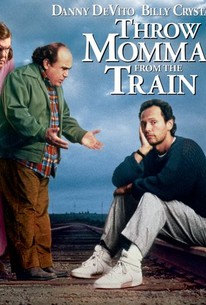 TOMATOMETER
AUDIENCE SCORE
Critic Consensus: Danny DeVito's direction is too broad to offer the kind of nastiness that would have made Throw Momma from the Train truly special, but DeVito's on-screen chemistry with co-star Billy Crystal makes this a smoothly entertaining comedy.
Throw Momma from the Train Videos
Throw Momma from the Train Photos
Movie Info
The "exchange murders" plot gambit, played with utter solemnity in Hitchcock's Strangers on a Train, is used as the launching pad for raucous laughter in Throw Momma From the Train. Director/star Danny DeVito plays Owen Lift, a middle-aged bachelor, totally dominated by his gorgon mother, played with hilarious ferocity by Anne Ramsey. Billy Crystal co-stars as Larry Donner, a creative-writing professor, saddled with a vituperative, thoroughly despicable ex-wife, Margaret (Kate Mulgrew). Signing up for Larry's writing course, Owen has trouble at first with character development and construction in his stories. Larry recommends that Owen watch a screening of Strangers on a Train, which he considered a model of tight, concise storytelling. Owen is so entranced by the film that he decides to emulate Strangers star Robert Walker. That is, Owen wants Larry to bump off his mother, in exchange for Owen's murder of Margaret. Without being asked, Owen does away with Margaret (or so it seems), then hounds Larry to the point of killing "Momma." This being a comedy, the actual consequences of the swap-murder plot aren't nearly as calamitous as in the Hitchcock film. Cinematographer Barry Sonnenfeld would apply the "black humor" lessons learned in Throw Momma From the Train for his own directorial debut, The Addams Family (1991).
Critic Reviews for Throw Momma from the Train
Audience Reviews for Throw Momma from the Train
½
Ugh! And tie the director to the tracks! This is mindless dreck with a supremely annoying and unimaginative cast.
Christian C
Super Reviewer
This isn't funny. I didn't want you to keep those hopes so high like mine were when I started watching this. Comedy films coming out around this time included Planes, Trains, and Automobiles, City Slickers, and Ghostbusters, films with dopey leads, hard hearted eccentrics, and lovelorn women. Many people like to lump this send off to Alfred Hitchcock's Strangers on a Train, with the rest of these gems. Based on reviews from this site, my love of anything Danny DeVito or Billy Crystal, and an admiration of zany hard knocks, I truly wanted to see this flick. Not only that but it seemed like a reinterpretation of Hitchcock's thriller, and to have anyone telling me to go see a re-telling and that it's hilarious to boot, I am onboard. Why does this movie not work? It's crazed. It's supposedly black comedy, but I think you have to have people laugh in order to crush yourself into that genre. The fact that they're both writers adds nothing, Danny DeVitoâ(TM)s role is supposed to stupidly endearing but is just a rip-off of Lenny from Of Mice and Men, and Crystal himself doesn't exhibit his superior, odd, and loudly obnoxious persona that made him famous in When Harry Met Sally and City Slickers. No, here he is an incoherent mess with one frame of mind: to kill his ex-wife who has stolen his book and become a wild success. That would have been fine, had they not pounded it to death. I seriously don't know how this haphazard script came to be, though I know it all got made because Danny DeVito directed it. Here his direction doesn't help anything, and we're left with characters who are neither affable nor realistic, and a plot that ambles wherever it so pleases. The ending, or should I say last ten minutes, is the only section that even features the aforementioned train. The mother, Anne Ramsey who made her mark as Mrs. Fratelli in The Goonies, never speaks any audible dialogue other than a rasp here and there and always there is yelling. She's not scary or annoying here, just simply blah, neither slightly mean tempered nor spitefully evil. She is a nothing character, just like everybody else in this disjointed wretch. The villains don't get punished, no one learns any lessons, and somehow Crystal gets out of his writer's block. Is that because he let go of his hate? Because he was still pretty mean to DeVito at the end of the film. It's just so painful and dull. Watch for the actors and nostalgia and that is all.
Spencer S.
Super Reviewer
½
A little comedic fun riffing off of Hitchcock's "Strangers on a Train" premise.
Kevin M. Williams
Super Reviewer
Throw Momma from the Train Quotes
| | |
| --- | --- |
| Owen Lift: | Momma, your alive! [turns to cops] Old people.... you have to reassure them. |
| Owen Lift: | Momma, you're alive! Old people...you have to reassure them. |
| | |
| --- | --- |
| Owen Lift: | This is great! It's like the Flintstones car wash! |