Thug Life
(2000)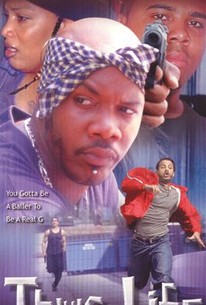 AUDIENCE SCORE
Critic Consensus: No consensus yet.
Movie Info
A young man trying to grow up straight in a crime-ridden neighborhood finds himself on the run after a friend accidentally lures him into a trap in this hard-edged urban drama. Boo (Thomas Miles) grew up in a rough section of Houston, TX, where many see crime as their only way out. Boo is determined to leave the street life behind and build an honest career for himself as a plumber, but his longtime friend Mecca (Gregory O. Stewart) talks Boo into helping him out as he tries to sell a stolen vehicle. Things don't go as planned, and when shots ring out, Boo and Mecca discover they've been framed for the murder of a gang leader and have to get out of Houston at once if they are to stand any chance of surviving the night. Thug Life also features noted hip-hop artists Willie D., the Lady of Rage, and Napoleon.
Critic Reviews for Thug Life
There are no critic reviews yet for Thug Life. Keep checking Rotten Tomatoes for updates!
Audience Reviews for Thug Life
I think I might have just witness the most ridiculous gangster movie ever made. Thug Life follows the story of gangster Bob who recalls events leading up to his death...except he's still alive by the end of the movie. Now you think if your protagonist states "Today is the die I died" that character would die. Not here, apparently no one who read the script notice that huge gaping plot hole. Plot holes are the least of this film problems. Unlike gangster films like City of God and Boyz n the Hood where the environments is the caused for the characters way of life. This film is racist saying that all blacks are violent people. The characters are rather stupid too and that's including characters that don't have a significant impact on the plot in any way. There's a scene where our gangsters plan to a rob car by having one of the gangster jumped in front a parked car and pretending it hurt him. This actually works believe it or not. This films requires you to have an incredible amount of disbelief because a gangster can become a brain surgeon as easy as getting a job at a McDonald. We also have a club that apparently has a lawn and gangsters shout bible like verses. Also according to this movie gangsters known Martial Arts. Gangsters apparently in this movie are trained to know kung-fu despite the fact they carry guns. The only positive is Thomas Miles acting. He's the only one who even remotely cares about acting. I would have gone into further detail, but this is a low budget gangster film that have Martial Art fight scenes which is enough to warrant anyone to stay away. Thug Life is the first gangster movie to include Martial Arts in a film of it kind, but that's it. It doesn't inspire to say anything significance about this particular lifestyle and the consequences it has. Instead it's just another film trying to copy Boyz n the Hood without including anything that made Boyz n the Hood such a great film.
Caesar Mendez
Super Reviewer
Thug Life Quotes
There are no approved quotes yet for this movie.