Thumbsucker
(2005)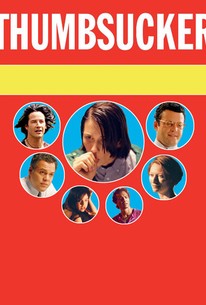 Movie Info
Dubbed "the King Kong of oral obsessives" by his hippie dentist, Justin Cobb is a 16-year-old desperate to find a way to break this embarrassing habit he has retained since infancy. His father, a former football star, tries to help by providing an antidotal cayenne-pepper cream and a healthy dose of fly-fishing. His mother, who works as a nurse helping the rich and famous sober up, seems more concerned with a fantasy romantic relationship with TV-star Don Johnson than with her son's problems. Hypnosis seems to work, but the problem surfaces in other forms from drug addiction to alcoholism.
Critic Reviews for Thumbsucker
Audience Reviews for Thumbsucker
½
Nowhere near as good as Mike Mills' follow up, Beginners, but Thumbsucker definitely plants the seeds of a budding auteur
Jonathan Hutchings
Super Reviewer
½
"You are not alone. You are not afraid. You don't need your thumb, and your thumb doesn't need you." Justin throws himself and everyone around him into chaos when he attempts to break free from his addiction to his thumb.
REVIEW
Thumbsucker is the film that we nearly didn't get to see. First time director Mike Mills had Elliot Smith on board to do the soundtrack and after he committed suicide, the director shelved the project. It wasn't until Mills saw The Polyphonic Spree and met Tim the lead singer that he saw a way to let the film see the light of day. So here with a brilliant soundtrack by both the Spree and Smith is a quietly subtle take on the life of a disenfranchised teenager and his diagnosis of attention deficit disorder due to his lack of energy and still sucking his thumb at his age. What unfolds is a beautiful tale of inspiration and aspirations in the minds of humans of all ages from teachers to dentists, mothers to drug addicts. Shot not unlike Solondz 'Palindromes' or Gondry's 'Eternal Sunshine of the Spotless Mind' it is at times touching and funny. Keanu Reeves is particularly funny as the hippie health freak but elsewhere all the performances are good. If you like little films with little messages then you'll love this movie. A subtle look at life through the eyes of the array of characters portrayed. Music video director Mills has produced a cracking debut and on the strength of this should go on to greater things, not unlike the thumb sucking central character in this film.
Lorenzo von Matterhorn
Super Reviewer
A young man, who occasionally still sucks his thumb, navigates adolescence, occasionally finding solace in a new love, an ADD diagnosis, and success in debate club. I simply have no idea what this film is about. I understand the plot of course, but what this film is saying about adolescence or parenting or the over-medication of today's youth is still a mystery to me. One reviewer remarked that unlike other coming-of-age films, this film tracks the effect of the adjustments adolescents make along the way. I find this comment both insightful and perplexing. It is true that the film denies its character easy solutions, but the ending implies that the ultimate answer lies in escape, independence, and time, all of which amount to, in my mind, an easy solution. Is the film simply saying that yes, adolescence is difficult, but it eventually ends? I don't know. Overall, I think there's something interesting going on here, but it's escaped me.
Jim Hunter
Super Reviewer
Thumbsucker Quotes
| | |
| --- | --- |
| Mr. Geary: | Have you had any other breakthroughs besides the book? |
| Justin Cobb: | Uh... It used to be kind of a hassle to put on underwear in the morning, but now it's kinda easy... ya know... |
| | |
| --- | --- |
| Justin Cobb: | It's hot today. |
| Rebecca: | Yeah. |
| Justin Cobb: | I think I'm going to take my shirt off. |
| Rebecca: | Yeah? Go ahead |
| Justin Cobb: | You should too. |
| Rebecca: | What are you trying, Justin? |
| | |
| --- | --- |
| Rebecca: | [Sees initials 'MFC' on Justin's thumb, which are his father's initials] What does that stand for? |
| Rebecca: | What does that stand for? |