Thunder in the City
(1937)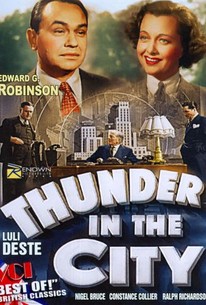 AUDIENCE SCORE
Critic Consensus: No consensus yet.
Thunder in the City Photos
Movie Info
A flamboyant American publicist is sent to England to learn the art of low-key salesmanship in this comedy. Once in London, he encounters two aristocratic fellows, his distant relatives, and they invite him to spend a weekend at their estate. He meets another noble couple and their beautiful daughter there. An entrepreneurial stockbroker also visits. When he learns that most of their wealth is gone, but for a "Magnelite" mine in Rhodesia, the broker offers to rustle up some investors in exchange for the hand of the daughter. Things don't go too well, until the Yank steps in and, using his American know-how, gets the company up and running. The disgruntled stockbroker doesn't take this lying down and that is when the real trouble begins. This is the first comedy role accepted by Edward G. Robinson (best known for his gangster roles).
Critic Reviews for Thunder in the City
All Critics (3) | Fresh (2) | Rotten (1) | DVD (1)
Edward Robinson particularly can be depended on... He couldn't keep this picture moving, however, though he worked at it hard enough, poor man.
...a comedy that pits American stereotypes against English stereotypes, with amusing results.
An enjoyable snappy satire on American-British differences when it comes to doing business.
Audience Reviews for Thunder in the City
In this decidedly Brit production Eddie G. plays an American salesman of the high-pressure variety trying to slick his way into high jacking the rights of an emerging new metal concern. A very young Ralph Richardson is his Brit counterpart, suave, debonair, and somewhat contemptuous of this Yank hooligan. Who will triumph between the two? AND there's a woman between them as well. There's an unspoken political undercurrent here that"s so distasteful I could hardly stomach finishing this, no matter the talent involved. In the final analysis, the age of this film made some forgiveness applicable, but just barely.
Kevin M. Williams
Super Reviewer
½
Edward G. powers this slight but pleasant little number into being better than it is.
Thunder in the City Quotes
There are no approved quotes yet for this movie.