Thunderball
(1965)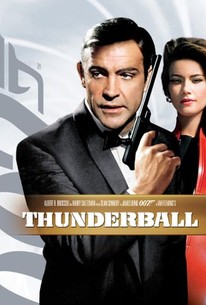 TOMATOMETER
AUDIENCE SCORE
Critic Consensus: Lavishly rendered set pieces and Sean Connery's enduring charm make Thunderball a big, fun adventure, even if it doesn't quite measure up to the series' previous heights.
Movie Info
Thunderball finds James Bond matching wits with the sinister espionage organization S.P.E.C.T.R.E, (which stands for Special Executive for Counterintelligence, Terrorism, Revenge and Extortion). This time, S.P.E.C.T.R.E. hijacks a NATO nuclear bomber, hiding the bombs under the ocean depths and threatening to detonate the weapons unless a ransom of 100,000,000 pounds is paid. The mastermind behind this scheme is international business executive Emilio Largo (Adolfo Celi), who maintains a pool full of sharks for the purpose of eliminating enemies and those henchmen who fail to come up to standard. Dispatched to the Bahamas, lucky Mr. Bond enjoys the attentions of three nubile ladies: Largo's mistress Domino Derval (Claudine Auger), British spy Paula Caplan (Martine Beswick, previously seen as a gypsy girl in the 1962 Bond epic From Russia With Love) and enemy agent Fiona Volpe (Luciana Paluzzi).
Critic Reviews for Thunderball
Audience Reviews for Thunderball
"...And he STRIKES!!! Like Thunderbolt!!!" (Gotta love that Tom Jones theme song) A bit overlong but still remains my personal favorite Sean Connery-era James Bond film. Great larger-than-life set pieces perfectly balanced out by carefully crafted slow-burn suspense sequences. Terence Young (Dr. No, From Russia with Love) returns to helm and I think this movie demonstrates that he was by far one of the franchises best directors next to Martin Campbell, John Glen, and Sam Mendes. Connery gives probably his most self-assured performance yet as James Bond and Fiona Volpe (played wonderfully by the beautiful Luciana Paluzzi) remains one of my favorite femme fetales of the series next to Xenia Onatopp of "Goldeneye." The usual make-or-break element of this film are the extensive underwater sequences, but personally I love them. They are gorgeously shot and the epic underwater battle between the good and evil Spectre army is fantastic.
Christopher Heim
Super Reviewer
"Thunderball" may not be a crowd favourite, but I really got a kick out of the story in this film and how well the underwater action scenes presented themselves. The action is top-notch and I could easily re-watch this film for that reason alone. As always, the acting is fantastic by the entire cast, especially Sean Connery, and all the elements of a great Bond film are present. It is definitely not without it's overlong running time, but if you sit through the film and be patient, you will get was you deserve. This film has great direction and very solid effects for it's time. "Thunderball" is one of the better bond films I've seen.
Though the gadgets get too gimmicky and the climax feels like anything but, 'Thunderball' is significant because it is carried by Connery's most assured performance as Bond.
Kase Vollebregt
Super Reviewer
Thunderball Quotes
| | |
| --- | --- |
| James Bond: | What I did was for Queen and country. Surely you don't think it gave me any pleasure? |
| | |
| --- | --- |
| Emilio Largo: | Someone has to lose! |
| James Bond: | Yes, I thought I saw a spectre over shoulder! |
| Emilio Largo: | What did you mean? |
| James Bond: | The spectre of the defeat! |
| | |
| --- | --- |
| Domino Derval: | I'm glad I killed him. |
| James Bond: | You're glad? |
| | |
| --- | --- |
| James Bond: | I hope we didn't scare the fishes. |