Thunderbirds
(2004)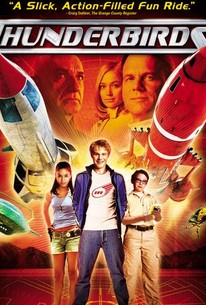 Movie Info
In a family of heroes, Alan Tracy was always being left out. While his father, billionaire and former astronaut Jeff Tracy and his four elder brothers are busy saving the world, Alan's biggest challenge is saving his grade point average at boarding school. And what's worse, he can't even tell his schoolmates that his dad and brothers are better known as the fearless adventurers behind the top-secret organization International Rescue--called in to save those in need whenever disaster strikes. Alan dreams of one day joining his close-knit family in their global vocation and even getting into the driver's seat of one of the awesome, incredible machines the Tracys' utilize in their life-saving work; the Thunderbirds. Back home on Tracy Island--a secret oasis in the South Pacific and headquarters to International Rescue--Alan and his friends, the brainy Fermat and the adventurous Tin-Tin, are left behind as Jeff Tracy and his elder sons are deployed on a fake mission by their arch nemesis The Hood. Once the master criminal takes control of Tracy Island and the Thunderbirds, it falls to Alan and his friends to come up with a plan to defeat The Hood and rescue his family--oh, and save the world while they're at it.
News & Interviews for Thunderbirds
Critic Reviews for Thunderbirds
Audience Reviews for Thunderbirds
Thunderbirds could have been a good movie, all it needed was say something to do with the series or a good script without simplistic dialgoue.
Directors Cat
Super Reviewer
When I was a kid, I used to watch the Thunderbirds, I thought the show was excellent, fun and Thrilling. I was a little skeptical about watching this film, as it looked like a kids film, and it also looked like the film makers didn't know what they were doing. Boy was I right. Ths film is Aan insult to the original series, and it's fans. They could've at least made a film that the whole family could love, but instead they made a crap film. With it's child oriented humour, the film is a faillure even by child oriented film standards. This film was amusing, but it wore off, and the fact that they 'reinvented' the look and style of the original series was just wrong. They could have at least try to make a film that the entire family could love, instead they simply made this film for kids, this was honestly a bad move. One of the reasons why is becase the original fans of the series were born in the 60's and grew up watching Thunderbirds, my dad grew up on it, and he made me watch it when I was a kid. Anyhow, the film is terrible because every actor here seems miscast for the part, the story is lame, and the actors are plainly silly. Ben Kingsly was a joke in this film, not even his talent could redeem such a horrid picture. I really was hoping for something terrific on screen. Instead we were given a total joke of a movie. The nostalgic feel of this film is absent. The only good thing that came out of this film is that it will reiinforce the status of the original series more. Watch the series instead instead of this filth. This is a film that should not have been made.
Really? This is like comparing Spy Kids to Battlefield earth!