Thunderbolt and Lightfoot
(1974)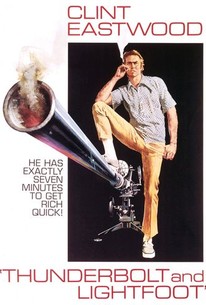 TOMATOMETER
AUDIENCE SCORE
Critic Consensus: This likable buddy/road picture deftly mixes action and comedy, and features excellent work from stars Clint Eastwood and Jeff Bridges and first-time director Michael Cimino.
Thunderbolt and Lightfoot Photos
Movie Info
As much an eccentric character study as a road movie, Michael Cimino's directorial debut follows the adventures of a quartet of misfits in their life of crime. Retired thief Thunderbolt (Clint Eastwood) and sweet drifter Lightfoot (Jeff Bridges) meet cute when Thunderbolt jumps into Lightfoot's stolen car to escape a gunman. The pair embarks on an oddball journey to get Thunderbolt's loot from an old robbery before his former associates, the sadistic Red (George Kennedy) and cretinous Goody (Geoffrey Lewis), get to it first, but all four are too late; the one-room schoolhouse hiding place has apparently vanished. So instead, the four play house and work legit jobs while they plot to rob the same place Thunderbolt and Red hit before. Although the plan goes awry, Thunderbolt and Lightfoot discover that they may still have succeeded-or so they think. As the easy-going mediator between the two, Eastwood's Thunderbolt was a move away from his tough cop-westerner image; his audience accepted this then-atypical performance enough to turn Thunderbolt and Lightfoot into a moderate hit. Bridges received his second Best Supporting Actor Oscar nomination, but Cimino turned down a subsequent deal with Eastwood, moving instead to his artistic peak with The Deer Hunter (1978) and career nadir with Heaven's Gate (1980).
Critic Reviews for Thunderbolt and Lightfoot
Audience Reviews for Thunderbolt and Lightfoot
½
Former screenwriter Michael Cimino's debut behind the camera is a charming mixture of buddy/caper/road movie. A cinematography that enhances the beautiful natural landscapes of middle america; a cast that exudes bonafide chemistry; and an unexpectedly tender conclusion to the adventure are the main reasons to treasure this film.
Pierluigi Puccini
Super Reviewer
Thunderbolt and Lightfoot is a pretty solid movie that doesn't quite live up to expectations but is definitely worthy of being called an underrated classic. It's a surprisingly laid back movie with great chemistry between Eastwood and Bridges. The first half with all its randomness before the heist gets planned was the stronger part of the movie. And the job sequences were pretty fun too. The cast is generally great and I can't decide if Gary Busey was creepier now or then. The ending's kind of a downer but the scenery and cinematography more than make up for it. And I never thought I'd say that Jeff Bridges makes a pretty girl but he was doing something right...
Michael Gildea
Super Reviewer
Cocksure drifter Jeff Bridges forms a bond with ex-bank robber Clint Eastwood and they hatch a plot to rob an armoured depository. One of Clint's lesser known efforts, this is a solid buddy cum heist movie with an unusually laid back tone. The cast of 70s stalwarts are all good, particularly the relationship between wise ass Bridges and brutal sociopath George Kennedy with whom they form an uneasy alliance. There's a lot of easy going comedy embellished with period Americana and a cast of characters that are quirky without trying too hard. The films attitude towards women can be described as "quaint" at best and it's not one for the action junkie, but it has a nice downbeat ending to counterpoint the comic tone of the rest of the film and it's worth seeing for the redneck with a car boot full of rabbits alone!
Thunderbolt and Lightfoot Quotes
There are no approved quotes yet for this movie.