Thunderheart
(1992)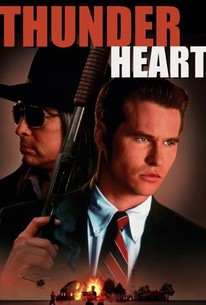 Movie Info
Actor Robert De Niro started a production company to make films just like this one: stories which were unpopular with the establishment and which are unlikely to make a big splash at the box-office. Even so, this is a first-class production, and the filmmakers were the first to receive permission to film on the Pine Ridge (Sioux) Reservation in South Dakota, likely due to director Michael Apted's having previously made an accurate and sensitive documentary about Indian political prisoner Leonard Peltier's case, Incident at Oglala. The film did exactly as well as expected at the box-office but has since assumed greater importance as one of the tiny number of "mainstream" movies which faithfully and respectfully illuminate Native American issues. In the story, loosely based on the earlier documentary, Ray Levoi (Val Kilmer) is an ambitious up-and-coming FBI agent in the 1970s with great career prospects. The one thing he will not tolerate is any reference to his half-Indian heritage. As far as he is concerned, his loyalties and culture identify him with the government and his white mother. He is extremely touchy about anything to do with his father, who was an alcoholic full-blooded Sioux. However, the FBI wants to take advantage of his half-Indian blood to mend fences in a politically sensitive murder investigation, and it sends him exactly where he doesn't want to go. Further, he is widely advertised as being Indian, though he knows virtually nothing about his heritage and has renounced it to the best of his ability. Once on the reservation, he becomes deeply involved in a truly messy state of affairs and is drawn into situations where he is forced to confront his background, native spirituality, and the duplicity of the government and its allies within the tribe. Despite his consistent prickliness about his heritage, his heart is in the right place, and the reservation's sheriff (Graham Greene) and a wise spiritual elder (Chief Ted Thin Elk) patiently lead their unwilling FBI pupil on a soul-wrenching wild goose chase which paradoxically takes him straight to the heart of the matter.
News & Interviews for Thunderheart
Critic Reviews for Thunderheart
Audience Reviews for Thunderheart
No dead horse should be continually beaten (not to mention that anyone who beats a live horse should be shot). I believe this. But, EVERY time I see this movie I remember that Kilmer is probably most celebrated for his Doc Holliday performance in Tombstone, and I do agree that his performance is stunning, there. But I tell you true, Kilmer's BEST acting job is right here. I never get tired of watching him grow in this role.
Previously: I've been on Flixster for a good little while, so what with my age and all, I'm sometimes very unsure about whether I've commented on a particular movie. I just watched this one for probably at least the tenth time -- although my gut tells me it's more like twenty times -- and I just had to check Flixster to see if I'd actually ever said anything about it.
Amazing! I have never said a word about it. I'm sincerely surprised.
Even with a favorite movie, you probably understand well that it's sometimes hard to watch it TOO many times, right? I mean it is very interesting, even with some of my very favorite movies, that I'll sometimes start watching them and say to myself something along the lines of, "Ah, maybe not tonight."
With Thunderheart, it is never that way for me. I can watch it, and watch it, and then even put up with commercial interruptions, like tonight, to watch it again.
I'm not sure how well I can explain all the reasons why I love this movie, but you know me -- I'll give it a shot : )
Val Kilmer is superior as Doc Holliiday in Tombstone, I think some of you might agree. But the beauty of that work, for me, takes a second seat to his performance in this movie. There is something about his difficulty with delivering some of the lines here with conviction -- "I'm sorry I dragged your family into this," for instance -- that is never a problem he has with his world-weary Doc Holliday.
You are, I'm sure, very familiar with the hackneyed term "coming of age." Doc Holliday, thanks to Kilmer's performance, you know darn well came of age looong before the events chronicled in Tombstone. That performance of a man who has lived life to the fullest, seen it all, done it all, is perfection.
Ray Levoi, on the other hand, is coming of age right before your very eyes. I love the less polished performance here because it lends itself -- almost as if he intended it to be that way -- to the way he is discovering himself, who he is, how he should live, how he should act.
Okay, I was going to go into a whole list of reasons why I love this movie, but I'm sure very few people have even read this far.
Bottom line: This movie is so good that I'm adding it to my Top 100 list right now, and I'm going to be curious to see what movie I decide to drop from that list in order to make place for Thunderheart. If you've not watched this before, please give it a try. Me? I don't think I will ever get tired of watching it.
Lanning : )
Super Reviewer
An FBI investigation of a murder mystery is made interesting by its unusual locale: a dusty and rundown Native American reservation in the Dakotas. Noirish qualities emerge when the murder, and the investigation, are shown to be cover-ups for something darker, but the "Indian" connection is what makes for entertainment here.
Kevin M. Williams
Super Reviewer
An FBI agent investigates a murder on a Lakota reservation. Thunderheart is a textbook example of how a skilled filmmaker can use a familiar genre to attempt to make a political point. The mystery and the message are interwoven expertly. However, as much as the film attempts to show Native life as it was, and still is in many places, (people living in near squalor with high incidents of alcoholism and violence), the last shot summarizes the feel I got through other parts of the film. I'm not giving anything away when I say that in the final moment, we see a busy highway that is far removed from the Res. It is as though Natives are still unwelcome in modernity, separated radically from it, even though thoroughly modern lives either are or can be lived by the people we just met. The film's heart is in the right place, exposing the degradation to which many of these people are subjected, but there is still something of a "noble savage" feel to how the film treats Natives. Add to this the fact that Fred Ward plays in a character in "red face," as the saying goes, and we can see how Natives are still subjects to some degree. Also, I wondered about why Sam Shepard's character, Cooch, constantly sent Val Kilmer's character, Ray, to advance the investigation alone. It seemed unrealistic. The performances are all fine; though, I think Val Kilmer was too stoic. If we are to buy the fact that a grizzled FBI veteran so quickly recovers his Native roots, I think more work needs to be done by the actor to make this transition obvious. Overall, Thunderheart is a well-told story even with a few relatively minor flaws.
Jim Hunter
Super Reviewer
Thunderheart Quotes
There are no approved quotes yet for this movie.