Thunderpants
(2001)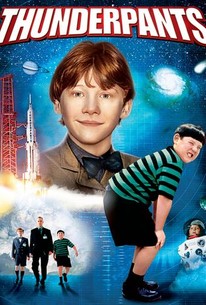 Movie Info
The family-oriented comedy Thunderpants, directed by Peter Hewitt, concerns an unfortunate ten-year-old who suffers from nearly incessant intestinal gas issues. Patrick Smash (Bruce Cook) is shunned by much of his family and his classmates because of the unpleasant odors that are forever emanating from him. Only his nerdy friend Alan A. Allen (Rupert Grint), who has no sense of smell, will help Patrick in his goal to become an astronaut. Eventually, Patrick becomes involved with representatives of the United States space program, as well as an opera singer (Simon Callow) who needs Patrick to "play" an exact note at a perfect moment. Ned Beatty and Stephen Fry round out the cast of this quirky comedy. Thunderpants was screened at the 2002 Cannes Film Festival.
Critic Reviews for Thunderpants
Audience Reviews for Thunderpants
½
A British family film about a boy with flatulence issues who wants to be an astronaut shouldn't have even been greenlit. Thankfully, it was and someone who saw the heart of the movie took control. The core of this film is about an outcast with a seemingly impossible dream who never gives up. It does slip in the middle where the plot goes off on an unnecessary tangent, but it pulls itself back together for the ending. A charming little film - but I have no idea why everyone dresses in green...
Marcus Woolcott
Super Reviewer
½
A charming childrens' movie about a boy with farting issues. If you have a problem with your kids hearing ass or damn you may want to skip it because both words are used frequently in this film.
FanGirl Browncoat
Super Reviewer
I find it very hard to understand why this film is #89 on th IMDb bottom 100 movies. Although the initial premise of a boy with huge gas problems may not sound appealing, it's actually a good film. Quality acting from all involved (including Rupert Grint, and a tiny teensy role for Keira Knightley), and a sweet central storyline of the two boys friendship. It's obviously not taking itself too seriously, and the only reason I can think that people wouldn't like it is because they expect too much of it. Kids will love it. Adults will find it amusing. And I adored the colour scheme! The continued green theme gave the film an original edge that sets it apart from typical 'kid' films. A good one to watch on a rainy afternoon.
Cassandra Maples
Super Reviewer