Thursday
(1998)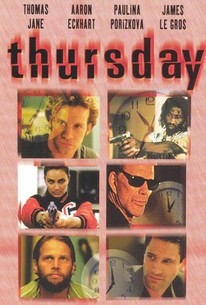 Movie Info
Skip Woods made his directorial debut with this film, caught in a crossfire between thriller and comedy. After violence is unleashed in the opening sequence, the story settles on former L.A. drug dealer Casey Wells (Thomas Jane), now a Houston architect living with his attractive wife Christine (Paula Marshall). When past partner Nick (Aaron Eckhart) arrives out of the blue on a Thursday, asking for a place to stay for a few days, Casey invites him in but later gets curious about Nick's briefcase. After he opens it to find a huge helping of heroin, panic sets in, and he flushes it all away -- setting the stage for a variety of hoods and hitmen to turn up on Casey's suburban doorstep. Shown at the 1998 Toronto World Festival.
News & Interviews for Thursday
Critic Reviews for Thursday
All Critics (7) | Fresh (3) | Rotten (4)
A vehemently cynical, abrasive, and intense picture full of stylized gangdom inhabitants, it's at once entertaining, off-putting, and hilarious.
A gangster film that hopes to duck the bullets flying overhead and become a comedy.
Believes that shock value in and of itself equals hipness. In actuality, it only equates to pathetic desperation.
Audience Reviews for Thursday
½
One of the many Tarentino rip-offs of the 90s, but definitely one of the good ones. Good work from all involved, especially Aaron Eckhart and Michael Jeter, the always underappreciated character actor. The script and storyline had strong elements of black comedy, and the multiple storylines were put together pretty cohesively, though some were definitely stronger than others. The violence was incredibly graphic, yet it was consistently so, and seemed befitting of the tone. It certainly doesn't have the same polish of a Tarantino vehicle but has enough good elements to make it an interesting ride. 3.5/5 Stars
Jeffrey Meyers
Super Reviewer
A droll, dreary, and distasteful mess. Violence in cinema is fine, as long as there is reason to use it. Thursday presents brutal violence without reason. It just throws it onto the screen and tries to tone it down by adding a funny joke at the end. That, sir, is not black comedy.
Stephen Earnest
Super Reviewer
½
fascinating, original black comedy that jump started the careers of superstar Paulina Porizkova(Intern, female perversions) and a-list director Skip Woods (Thursday). needless to say this is a very funny black comedy that is not only fascinating, but original. Also known as the film that influenced QuentinTarantino to write Pulp Fiction!
Coxxie Mild Sauce
Super Reviewer
Thursday Quotes
There are no approved quotes yet for this movie.