Tickle Me
(1965)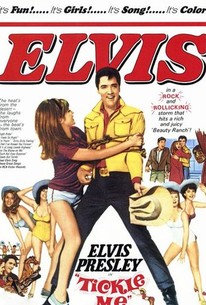 AUDIENCE SCORE
Critic Consensus: No consensus yet.
Movie Info
The original king of rock-n-roll (Elvis Presley) stars in this light comedy musical as a singing buck who finds employment at an all femme ranch & spa. After kissing the girls and making them cry, the stud-clad crooner is sent away, but soon comes back to rescue a pretty maiden from the hands of fortune-seeking baddies.
Critic Reviews for Tickle Me
Audience Reviews for Tickle Me
Silly bit of nonsense, not really surprising considering the title, that isn't the worst film Elvis made but falls squarely towards the lower end of the scale. To begin with the so called comic relief best friend is an irritating buffoon who is annoying every second he is on screen. The songs are forgettable and it wastes two of the best assets it has. Namely the always welcome character actress Connie Gilchrist who is hardly used at all and worse yet the terrific and underrated Julie Adams who looks great as the ranch boss and certainly is a more interesting screen presence and better match for Elvis than the vapid Jocelyn Lane. Not painful to sit through but a great example of cinematic junk food.