Tiger Bay
(1959)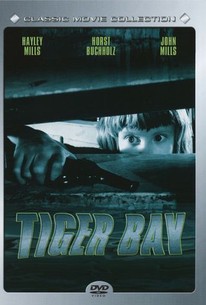 Movie Info
Twelve-year-old Hayley Mills made her film starring debut in the location-filmed melodrama Tiger Bay. Horst Buchholz plays a Polish sailor who, while docked in Cardiff, jealously murders his ex-girlfriend Yvonne Mitchell. The killing is witnessed by Hayley, a lonely, hoydenish preteen whose only interest in the crime is Buccholz' abandoned gun. Hayley picks up the weapon, intending to impress the other kids in town. She succeeds only in attracting the attention of police inspector John Mills (Hayley's real life father), who wants to know where she found the gun and under what circumstances. An experienced liar, Hayley drives the inspector crazy with her fabrications. Sent home with a stern reprimand, Hayley is kidnapped by Buccholz, who doesn't want to kill the child, but doesn't want to be revealed to the police, either. Convinced that Buchholz means her no harm, Hayley offers to help him escape. He returns the favor by rescuing her from a watery grave, at the cost of his own freedom. On the basis of her performance in Tiger Bay, Hayley Mills not only won a special prize at the Berlin Film Festival, but was invited to star in Disney's Pollyanna (1960).
Critic Reviews for Tiger Bay
Audience Reviews for Tiger Bay
½
Hayley Mills stars in this film along with Actor Father John Mills in a story of Murder, loyalty and unconventional friendship
Lady D'arbanville
Super Reviewer
The best Hayley Mills film, no comparison. She always was better at playing tomboys. Horst Buchholz (Magnificent Seven) is tragic, charming and utterly gorgeous all at the same time. For those who fell for the Hollywood bad boy rebels such as James Dean, Marlon Brando and Steve McQueen should watch this film. I love how John Mills (Hayley's dad) seems to be in awe of his daughter in some scenes. This is an utterly utterly utterly brilliant film.
Sarah Burton
Super Reviewer
Tiger Bay Quotes
There are no approved quotes yet for this movie.