Tiger Cage
(1988)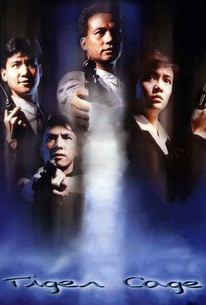 AUDIENCE SCORE
Critic Consensus: No consensus yet.
Movie Info
Director turned hot Hollywood fight choreographer Yuen Woo-ping spins this propulsive action-thriller. When officer Hsiu (Leung Kar-yan) successfully cracks into a major drug ring, he is able to arrest everyone except the group's ruthless ringleader, Swatow (Johnny Wang Lung-wei). The following day, Hsiu ends up full of holes and the police department launching a desperate manhunt to find Swatow. When they eventually track him down, the criminal is set up to be murdered by crooked cop named Feng (Ng Man-tat), who is working for a rival smuggler. When protagonist Fang (Jacky Cheung Hok-yau) stumbles upon evidence that Feng is working for the crime world, he quickly learns that Feng is not the only dirty cop in the department.
Critic Reviews for Tiger Cage
There are no critic reviews yet for Tiger Cage. Keep checking Rotten Tomatoes for updates!
Audience Reviews for Tiger Cage
½
There is only one reason I watched this, Donnie Yen was in it and I thought is would be a good movie. Instead, I saw the most average movie I've ever seen. It's not bad, nor is it good. It kinda hard to explain exactly why it's average. I guess the story has a terrible balance of being gritty and humorous most of the time, but it knows exactly when to time it correctly. There some plot twists, but they're generally weak and you wished it would've gone in a different direction. The acting is both strong and weak in certain scenes of the movie. Unfortunately the only reason I saw was because it had Donnie Yen and he's not in much of this movie. While the action is below average, except when Donnie Yen fights (though still average), it won;t keep you entertain. Though what I did like was the many location of the characters went to which add realism (I think) to the movie. Overall it could've been better, but it still worth a watch just to see Donnie Yen in a early role. If your looking for a good police movie, I recommend Police Story 1-3 mostly because they're from Asia just like this movie.
Caesar Mendez
Super Reviewer
Tiger Cage Quotes
There are no approved quotes yet for this movie.