Tiger Cage 2
(1990)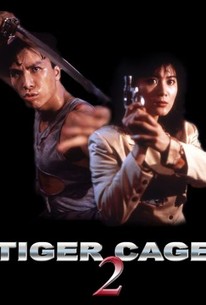 AUDIENCE SCORE
Critic Consensus: No consensus yet.
Movie Info
In this name-only sequel to the 1988 Tiger Cage, Hong Kong cop Dragon Yau (Donnie Yen Chi-tan) is having a truly bad day: His wife is demanding a divorce, he is almost killed in a bloody robbery attempt, and he gets thrown from a speeding ambulance. Worse still, he finds himself not only framed for murder and wanted by the triads but also handcuffed to Mandy (Rosamund Kwan Chi-lam), the very female lawyer her disgruntled wife hired to clean him out. A band of gangsters are under the impression that Mandy is hiding a wad of laundered cash in her attaché case and seems indisposed to talking the matter out. A litany of explosions, gun play, and general mayhem ensues.
Critic Reviews for Tiger Cage 2
There are no critic reviews yet for Tiger Cage 2. Keep checking Rotten Tomatoes for updates!
Audience Reviews for Tiger Cage 2
The first Tiger Cage was an average movie for me, so why would I watch the sequel if I didn't think much of the first. Simple, Donnie Yen is the star of the movie. The story is an improvement, though nothing special is more entertaining this time around. A tough-as-nails ex-cop (Donnie Yen), Alan, and a lawyer, Mary, accused of murder, team up with a unscrupulous lawyer, David, as they intend to solve the case of laundering dirty money. It turns out that David was involved, but was betrayed by his cohort Wilson. Now Alan, Mary, and David must fight Wilson and his henchmen. What I didn't like much was it comedic relief was timing was a little off, but it worked for the most part. The action sequences are much better, just slightly above average to keep you enthrall in the action. The action is more exciting and better done in this sequel. Unfortunately I can't say much for the acting, Donnie Yen is great as always, unfortunately his co-stars aren't always good. Like the first Tiger Cage, you want something more from the ending instead of an abrupt end. Tiger Cage 2 does enough improvements over it predecessor to bring us the audience a more memorable experience. Though it lack improvement in certain areas, it's doesn't ruin this good movie.
Caesar Mendez
Super Reviewer
Tiger Cage 2 Quotes
There are no approved quotes yet for this movie.