Tigerland
(2000)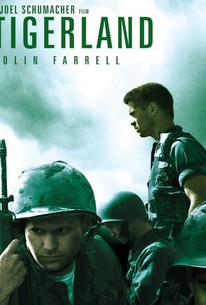 Movie Info
A young man tries to fight the military system only to find it fighting back in unexpected ways in this hard-edged drama. In 1971, Roland Bozz (Colin Farrell) is a draftee who has been sent to the Advanced Infantry Training Facility in Fort Polk, LA, where with hundreds of other new soldiers he's to be taught a final course in combat skills before being shipped out to Vietnam. Bozz has no interest in going to war, and is determined to get sent home as a troublemaker. But his plan backfires; his superiors regard his insubordination as a sign of intelligence and independent thinking, and he's told he might some day become an officer. Bozz and his fellow soldiers -- aspiring writer Paxton (Matthew Davis), sensitive Miter (Clifton Collins Jr.), philosophical Cantwell (Thomas Guiry), bloodthirsty Wilson (Shea Whigham), and heroic Johnson (Russell Richardson) -- are taught how to survive as they face their fears of death and wonder if they can somehow escape going to war. Tigerland was directed by Joel Schumacher; in a change of pace from his best-known work (Falling Down, Batman Forever, and Batman and Robin), the film was made on a relatively low budget (under $10 million), was written by first-time screenwriters Ross Klavan and Michael McGruther, and features a cast of young, little-known actors. ~ Mark Deming, Rovi
Critic Reviews for Tigerland
Audience Reviews for Tigerland
½
Basically this is just a low-budget indie mashup of Cool Hand Luke and Full Metal Jacket, and you know what? This might be a tired formula, but it still kinda works. Maybe it helps that this was shot docudrama style, and the cast was filled with (then) unknowns. Colin Farrell had his breakout role here, and, while he isn't quite able to completely hold the film up on his own shoulders, he's pretty good and definitely shows promising as a talented lead...even though his brogue does occasionally slip through his noble attempt at a Texan accent. The plot is that of the typical rebel without a cause named Roland Bozz out to challenge authority. The setting is a training camp in Louisiana in 1971, and this particular camp has a reputaton for being brutal, as well as the last stop for many before being shipped to Vietnam. Bozz is very capable at being a good soldier, yet he'd rather spend most of his time farting around and doing his own thing, regardless of the consequences. There's some other great performances from Clifton Collins Jr and Matthew Davis. Even Michael Shannon makes an appearance. The characters are little more than cutouts, and the actors playing drill sargeants are doing half assed and less effective R. Lee Ermey impressions, but like I said, this all kinda works. Maybe it just has to do with Schumacher getting back to basics and working with a low budget and going for a less mainstream character study. Yeah. I think it's that last one. Go check it out.
Chris Weber
Super Reviewer
The system wanted them to become soldiers. One soldier just wanted to be human.
½
An extreamly powerful drama. It's remarkable, thoughtful, conflicting and exhilerating. Director, Joel Schumacher's masterpiece, his finest film yet. A groundbreaking, original, riveting and magnificent tour-de-force of a movie. Colin Farrell is extroadinary, giving an explosive breakthrough performance that shows what maximum potential really is.
Tigerland Quotes
| | |
| --- | --- |
| Roland Bozz: | Just because you wear those sergeant's stripes don't mean you ain't gonna die. |
| | |
| --- | --- |
| Roland Bozz: | Nobody saves anybody you stupid son of a bitch. |
| | |
| --- | --- |
| Cantwell: | Doesn't it strike you what that means? How each one of us is a little bit of everything, and everything is shit. |
| | |
| --- | --- |
| Roland Bozz: | My friend here wants to go for the experience, Sergent. Says he ain't scared. |
| Sergeant Cota: | Good luck, Private. You ask me, I'll stick with the smart and the scared. |