Tight Spot
(1955)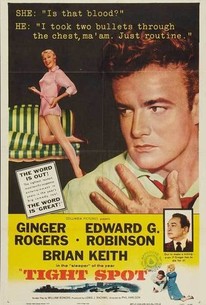 Movie Info
Tight Spot is based on Leonard Kantor's novel Dead Pigeon, which in turn was obviously inspired by Virginia Hill's appearance before the Kefauver Committee. Ginger Rogers plays hard-boiled model Sherry Conley, who is serving a prison term for a crime she didn't commit. Sherry is offered her freedom -- and immunity -- by U.S. attorney Lloyd Hallett (Edward G. Robinson) if she'll agree to appear as a material witness in the trial of mobster Benjamin Costain (Lorne Greene). Unfortunately, Costain has a long reach, and is able to coerce Vince Striker (Brian Keith), the detective assigned to guard Sherry, to allow Costain's hired guns to invade the hotel room where Sherry is being hidden. The star witness is surly and uncooperative, but she finally decides to testify when her escort, policewoman Willoughby (Katherine Anderson), is murdered by Costain's goons. But Striker is still around and about, still determined to do Costain's bidding.
Critic Reviews for Tight Spot
Audience Reviews for Tight Spot
½
Tight little crime drama. A B-movie in its day, second tier movies today can only wish for a cast like this.
Tight Spot Quotes
There are no approved quotes yet for this movie.