Timber Falls
(2007)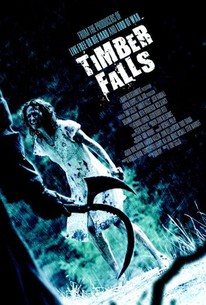 Movie Info
When Mike and Sheryl head out for a weekend of camping in Lake Kumbrabow State Park, a peaceful excursion gives way to sheer terror as Sheryl is brutally abducted by a murderous cult in search of a newborn child. Later, as Mike wanders the woods in search of his missing mate, a mysterious, God-fearing woman offers her hand in help. Little does Mike realize that the outwardly benevolent soul is in fact the very person he should fear most, and by the time he sees Sheryl bound to a table in a dank cabin cellar, it may already be too late for both of them. ~ Jason Buchanan, Rovi
Critic Reviews for Timber Falls
Audience Reviews for Timber Falls
The story is not new: young couple goes hiking on the wrong trail and ends up in trouble. The shape of the trouble is so over the top and unrealistic here that it's hard to take it seriously. Christian fanatics may be a problem in certain parts of the world, but their motifs in catching the couple here lack any logic. It doesn't help that the freak's make up is incredibly silly. There are still moments of excitement and at least our protagonists make a few smart decisions unlike the usual horror thriller victims. So the result is not boring but overall just way too much over the top. It also drags on 15 minutes too long. And even though it doesn't mess up the rather decent ending, the last second scare is so obvious and stupid, you see it coming from a mile away.
½
When I saw it I said it would get 3 stars. But I just don't see the point....cause it wasn't good...you could watch it without getting pissed off....but it wasn't good. And that's what matters....not wrestling...And come on...we could hear the waterfall was fake...
Martin Sahlin
Super Reviewer
½
Actually nothing special in this Movie, but entertaining.
Timber Falls Quotes
There are no approved quotes yet for this movie.