Los Cronocrímenes (Timecrimes)
(2007)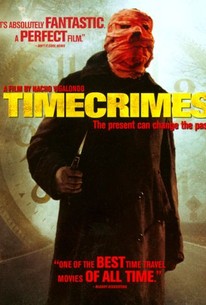 Los Cronocrímenes (Timecrimes) Photos
Movie Info
An ordinary guy takes an extraordinary step through time in this science fiction thriller. Hector (Karra Elejalde) is spending a few days in the countryside with his girlfriend, Clara (Candela Fernández), when he sees something that catches his attention while playing with his binoculars. Looking at a nearby house near a wooded area, Hector spies a beautiful woman taking her clothes off, and decides to take a stroll and give her a closer look. However, when he arrives at the house several minutes later, the woman is lying in the grass and appears to either be dead or passed out. As Hector examines her, he's attacked by a strange man and flees on foot. Hector seeks refuge in a building that turns out to be a research facility owned by a mysterious scientist (Nacho Vigalondo), who gives him a place to hide inside a futuristic closet. However, Hector realizes it was actually a time-travel machine when he emerges a few minutes later and looks out the window to see himself standing over the unconscious woman in the distance. Los Cronocrimenes (aka Timecrimes) was the first feature film from writer and director Nacho Vigalondo, who also appears as the scientist.
News & Interviews for Los Cronocrímenes (Timecrimes)
Critic Reviews for Los Cronocrímenes (Timecrimes)
Audience Reviews for Los Cronocrímenes (Timecrimes)
½
A decent time-travel film that seems like an extended Twilight Zone episode lacking a strong main character, and while it is really mysterious and intriguing in its first half hour, it soon becomes quite predictable, despite a clever twist in the last act of its circular plot.
Carlos Magalhães
Super Reviewer
½
[img]http://images.rottentomatoes.com/images/user/icons/icon14.gif[/img]
Directors Cat
Super Reviewer
Clara: Time flies here. "The present can change the past." Timecrimes is a unique and well done time travel thriller. I'm not the biggest fan of time travel movies, but Timecrimes manages to be original and actually is able to keep all of the pieces of the puzzle together, while most time travel films fall apart. It's also just a lot of fun. From when we begin to see where the plot is going to the final scene where examine what has taken place from different perspectives; the film work and no doubt entertains. Hector and his girlfriend or wife(I don't really know) are at a countryside home that it looks like they have just moved into and are fixing up. When Hector is using binoculars to scope out the landscape, he sees a beautiful girl taking her shirt off in the woods. His wife leaves, so he goes to get a closer look, stumbling upon the naked girl motionless on the ground in the woods. He's then attacked by a man and stabbed in the arm. He runs away, jumps a fence, and winds up breaking into a building that only one person is present. To hide from his attacker, he gets into a weird tomb like thing. Well the building wasn't any building, but a time travel science lab. Now Hector has traveled back in time roughly an hour and a half before he got in. Now things get real crazy. I loved the plot, I loved the twists, and overall I just really loved this movie. It's a time travel movie that works because every loose end of normal time travel movies was tightened up. There are no glaring plot holes like you see in most movies of this type. Everything fits together and that's why the movie works so well. If you're at all a fan of the genre, then definitely give this one a watch. More experienced viewers of the genre may find some problems with it, but for me this movie was as close to perfect as I've seen from a time travel movie. If there are problems that I wasn't noticing, you should still find the plot fun and engaging.
Melvin White
Super Reviewer
Los Cronocrímenes (Timecrimes) Quotes
There are no approved quotes yet for this movie.