Time of the Wolf
(2004)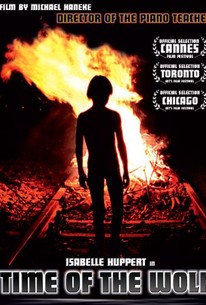 Movie Info
Directed by Austrian filmmaker Michael Haneke, this bleak drama finds Anne (Isabelle Huppert) and her family in an ominous, post-apocalyptic society that has traded social norms and modern comforts for stark desperation and a return to primal methods of survival. Fire, the threat of starvation, and finding proper shelter has so altered Anne's way of life that she questions whether or not it is possible for humankind to exist with any semblance of reason or personal values. The Time of the Wolf also features performances from Patrice Chéreau, Olivier Gourmet, and Maurice Benichou.
Critic Reviews for Time of the Wolf
Audience Reviews for Time of the Wolf
½
Time of the Wolf is competently made with solid, realistic acting. However it has too many characters, too little plot, and lacks in a coherent theme or message. Oddly enough, though, the ending is quite good and overall the film has some merit.
Robert Brogan
Super Reviewer
Haneke does come up with some interesting post-apocalyptic scenarios, but for the most part the film is boring and the characters are flat as can be.
Alec Barniskis
Super Reviewer
½
Of course it is bleak, slow, and ambiguous - it's Michael Haneke! I did indeed like this one, though only having seen Funny Games, Funny Games, and this, I do believe Haneke to be obsessed with the themes of home invasion and "bourgeois" people forced into humility. I CAN tolerate what some will describe as unbearable "slowness" and over-calculation of shot composition that many accuse Haneke guilty of, but mostly because I am sick of seeing shoddily edited, overcut, and underthought movies that will always flood the market. It's tough to be a legitimate film maker, because then you actually have to meet standards, which is why I imagine so many people to be very callous in regards to assessments of Haneke's work. I am always pleased to see apocalyptic/end of society films done in this realistic tone, especially in today's flooded market of action apocalyptica and sensationalized armageddon. This film most closely reminds me of Threads with its bleak presentation and closeness to reality. A wonderful film, but you must be a patient fim viewer (read: not an ADD crazed artificial adrenaline junkie plucked from the teeming masses). I must confess that I dislike the ending, not because it is ambiguous; indeed I like to think I know what awaits the characters after the reel ceases to roll, and I delight in imagining the specifics of how they will deal with yet another difficult and wholly new situation. I dislike the ending not for the final shot, but for the scene right before it, and the haste with which all of the dangling storylines are abandoned for this overhanded symbolic moment which will contribute to many viewers feeling similarly abandoned and befuddled by the director's choice, but as is often the way with Haneke, that mau be indeed precisely what he wants the audience to feel. Viewed from that perspective, I can accept that scene, but I cannot accept the countless storylines which were just moments ago being adequately nourished and developed, but are now suddenly left desperately open to interpretation.
_kelly .King
Super Reviewer
Time of the Wolf Quotes
There are no approved quotes yet for this movie.