Time Served
(2000)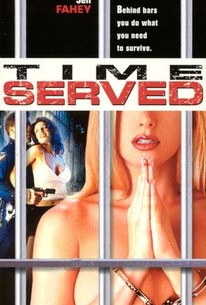 AUDIENCE SCORE
Critic Consensus: No consensus yet.
Movie Info
In this prison drama, a woman makes the ultimate sacrifice for her child. Sarah (Catherine Oxenberg) is a nurse whose husband, after losing his job, becomes an abusive alcoholic who batters Sarah and their eight-year-old son Jason (Zach Gray). When Sarah's husband attacks her in a drunken rage, Jason finds his dad's gun and shoots him dead. Hoping to spare her son, Sarah claims to have pulled the trigger herself, and her court-appointed attorney, Patrick Burlington (Jeff Fahey), proves no match for Judge William Engstrom (James Handy), known as Maximum Bill for his severe sentences. Engstrom sends Sarah to a women's prison for eight years, where cold-hearted warden Ms. Reineke (Louise Fletcher) and sleazy guard Duane (Scott Schumacher) inform Sarah that the prison has an unusual "work release" program: the female inmates can reduce their sentences and make money by dancing topless (and turning tricks) for Mr. D. (Bo Hopkins), who runs a strip joint just outside the county line. Those who refuse to play along are subject to violent abuse from both the authorities and the other inmates.
Critic Reviews for Time Served
Audience Reviews for Time Served
Probably attains the highest point any WIP film can reach as this one even strives for some honest emotions amid the exploitation - the nerve! Catherine Oxenberg is convicted by a harsh, corrupt judge with a grudge for killing her husband in self-defense. After initial resistance, she's off to the strip club with the rest of the inmates to circumvent abuse from the guards and expose the dirty deeds of the system. This one has it all really - gratuitous nudity and legitimate actors all wrapped in one! Louise Fletcher is a hoot as the acid-tongued prison warden, while Bo Hopkins steals the show as the hilariously sleazy strip club owner, my favorite performance in this type role of all time. Oxenberg is convincing and even earns our sympathy as the unjustly imprisoned mother, plus who doesn't want to see this Princess take her kit off? 3 stars is generous, but since it represents the peak of the field I will allow it - call me guilty as charged.
Doctor Strangeblog
Super Reviewer
Time Served Quotes
There are no approved quotes yet for this movie.