The Time Traveler's Wife
(2009)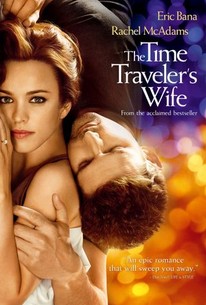 TOMATOMETER
AUDIENCE SCORE
Critic Consensus: Though it may satisfy fans of the novel, The Time Traveler's Wife's plot contrivances and illogical narrative hamper its big screen effectiveness.
The Time Traveler's Wife Photos
Movie Info
A Chicago librarian suffers from a rare genetic disorder that sends him hurtling through time whenever he is under extreme duress; despite the fact that he vanishes at inordinately frequent and lengthy intervals, he attempts to build a stable future with the beautiful young heiress he loves. Eric Bana and Rachel McAdams star in this dramatic fantasy, which is directed by Robert Schwentke and based on the best-selling book by author Audrey Niffenegger. ~ Jason Buchanan, Rovi
Critic Reviews for The Time Traveler's Wife
Audience Reviews for The Time Traveler's Wife
½
Based on some chick-lit that I bet I'll never read, this is the story of a Chicago librarian named Henry who, thanks to a genetic condition, inexplicably and uncontrollably travels through time, especially during moments of duress. Since he can't control the frequency or duration of his trips, Henry tries to avoid getting all that close to anyone...until he meets Clare- an artist and heiress who captures his heart. Despite the complications his condition brings, the two try to carry on a relationship, and make the most the most of what moments they get to share together. I'm not a fan of chick flicks, but a straight male coworker of mine who is, told me I might like this one, mostly because of the time travel/fantasy element. This is a romantic film, and it has it's emotional/tearjerker moments, but it's less sappy and more humorous than it seems. That the script was written by the same guy who scripted Ghost is probably one of the reasons why I ended up liking this, as the two are similar, and that it a genre film I admittedly enjoy. The cast are solid, and play it serious. Bana and McAdams are very likable, and Livingston had some good moments too. As much as I enjoyed the two leads, I think it would have been nice to see how this would have worked had they cast the book's author's choices of Adrien Brody and Lauren Ambrose. The film deals with the expected time travel issues by not really dealing with them or giving much of an explanation. I liked that. Sometimes you don't need an explanation. I mean, it's romantic fantasy, not romantic realism. It also is decently well shot, has fitting music, and managed to get me a little misty-eyed. All in all, a flawed, but still decently creative and clever film. I'm not big on romance, but they won me over with fine acting and an intriguing premise, so good job.
Chris Weber
Super Reviewer
½
Eh... not as cracked up as I thought it would be. The premise is better than the movie itself.
½
I liked it. Mind you, I have not read the book. It is hard not to feel for Clare who loves a guy who trips in and out of her life - sometimes older, sometimes younger. One of the failings though is that it feels like the times he time travels away from Clare's life are set up to make the movie more interesting - not any regular or random intervals.
The Time Traveler's Wife Quotes
| | |
| --- | --- |
| Henry: | I never wanted anything in my life that I couldn't stand losing. But it's too late for that. |
| | |
| --- | --- |
| Clare: | What, you think that I wanted this life... this husband that disappears without any kind of warning? Do you think anyone would want that? Who would want that? |
| Henry: | You have a choice. |
| Clare: | I never had a choice. |
| | |
| --- | --- |
| Henry: | I can't stay |
| Henry: | I can't stay. |
| Clare: | I know |
| Clare: | I know. |
| | |
| --- | --- |
| Clare: | Is your wife a time traveler? |
| Henry: | No. No, thank God. |