Timecode
(2000)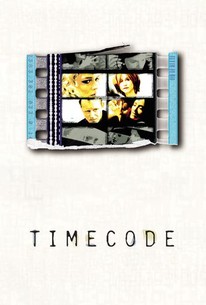 Movie Info
Director Mike Figgis helmed this ground-breaking experimental feature, filmed with four synchronized digital video cameras in four separate locations. The story, outlined in advance but otherwise improvised, was enacted in a single continuous take, like a stage play, with the unedited images from all four locations presented on the screen at once. Figgis and his crew chose the best single run-through, and the result is the film's final release version. The story focuses on four main characters around the casting sessions for a film called Bitch of Louisiana to be directed by Lester Moore (Richard Edson): Alex Green (Stellan Skarsgard), the studio executive overseeing Moore's project; his wife Emma (Saffron Burrows); gangster Lauren Hathaway (Jeanne Tripplehorn); and her unfaithful lover Rose (Salma Hayek). These characters' paths cross as murder, infidelity, and dirty dealings are interrupted by an earthquake and its aftershocks. Time Code 2000 also features Kyle MacLachlan, Holly Hunter, Julian Sands, Steven Weber, Danny Huston, Viveka Davis, and Laurie Metcalf.
News & Interviews for Timecode
Critic Reviews for Timecode
Audience Reviews for Timecode
½
As an experiment its admirable; an impressive feat of handheld camera work and improvisation. Unfortunately, Timecode really fails where it matters - telling a compelling story. The actors' performances also fall apart towards the end, and the entire thing becomes far more comical than it was supposed to be. But let's be honest - this film isn't nearly revolutionary. It's an ambitious gimmick, and one that only sometimes succeeds.
Sam Barnett
Super Reviewer
Hmmm. I'd like to see this film re-made with a different cast and plot and director and producer and DP and screenwriter and sound guy and editor. The idea is cool: four things happening at once split on the screen in four ways, and they are all continuous shots in real time. Could be awesome, but...epic fail.
Curtis Lilly
Super Reviewer
Timecode should be hailed as a masterpiece of complex cinematic techniques. The film is shot through 4 different cameras, each one consisting of one single take. Each camera is screened at the same time, taking up a quarter of the screen. What may seem pretentious, it kind of is even the film itself points this out, demonstrates how film can still be a mind blowing experience without CGI etc. The actors are all remarkable, each one improvising there way around the final film. Another amazing fact is the timing and how everything runs perfectly. It takes a while to get used to the four screens but soon you get used to it. Watching the screen with sound at that particular time but watching the other screens out of the corner of your eye. Thumbs up to the camera men who I don't think got caught in a reflexion once. The story itself is also rather interesting, mostly as we get to see what minor characters do when not being filmed or at the center of attention. Multiple viewings will serve this film very well.
Luke Baldock
Super Reviewer
Timecode Quotes
| | |
| --- | --- |
| Alex Green: | Can you order a table at a nice restaurant? |
| | |
| --- | --- |
| Ana Pauls: | It's so difficult to find and honest person in this town. |
| Ana Pauls: | It's so difficult to find an honest person in this town. |
| | |
| --- | --- |
| Alex Green: | We think it's crap, but we'll do it for you. And then you'll do our crap. That's the deal. |
| | |
| --- | --- |
| Ana Pauls: | My film...will be a film with contractions, with dilations. |