Timeline
(2003)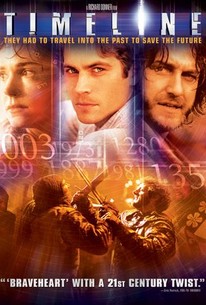 Movie Info
Directing his first film since 1998's Lethal Weapon 4, Richard Donner helmed this big-budget adaptation of Michael Crichton's novel of the same name. Featuring a script by first-time screenwriter George Nolfi, Timeline begins in France in the near future. A group of students from Yale are there studying a medieval site, when their professor, played by Billy Connolly, mysteriously goes missing. To make matters more enigmatic, the students are then taken back to the United States by a shadowy technology company called ITC, led by Robert Doniger (David Thewlis). The eccentric Doniger explains that because of a machine that his company built, their professor is trapped in 14th century France. In order to rescue him, two of the students, Chris Hughes (Paul Walker) and Kate Erickson (Frances O'Connor), along with Andre Marek (Gerard Butler), an archeological site manager, must travel to France, circa 1357, amid archaic war, deadly diseases, and other unexpected pitfalls. Meanwhile, David Stern (Ethan Embry), a third student, stays behind to keep an eye on the shady Doniger. ~ Matthew Tobey, Rovi
News & Interviews for Timeline
Critic Reviews for Timeline
Audience Reviews for Timeline
I like time travel movies, but this one leaves a bit to be desired. Usually when I watch a time travel movie, I imagine how cool it would be to be in their place - to find out some lost history or to be the wise character (with all your future knowledge), but it would not have been fun to live back in 1357.
Some archaeologists realise their dream and get to travel back in time, only things don't go as well as they'd've hoped. With a loud music score and lots of running and chasing going on I had the impression that Donner barely tries to hide that one is actually watching an old silent movie serial updated with modern gee whiz technology. Soooo dumb I was almost insulted.
Kevin M. Williams
Super Reviewer
A pretty forgettable film that goes nowhere fast.
Tim Salmons
Super Reviewer
Timeline Quotes
There are no approved quotes yet for this movie.