Tin Men
(1987)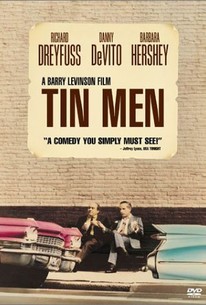 Movie Info
A nostalgic evocation of a simpler era, and perhaps the best of director Barry Levinson's quartet of Baltimore-based film reminiscences, Tin Men immortalizes a fast-talking, early-1960s breed of salesman who pushed aluminum siding. Danny DeVito and Richard Dreyfuss are two of the titular characters who, after a minor fender-bender, become mortal enemies -- and competitors. Dreyfuss even goes so far as to cuckold DeVito's wife (Barbara Hershey).
News & Interviews for Tin Men
Critic Reviews for Tin Men
Audience Reviews for Tin Men
½
[font=Century Gothic]"Tin Men" takes place in Baltimore, 1963. Minutes after purchasing a brand new Cadillac, successful aluminum siding salesman, BIll 'BB' Babowsky(Richard Dreyfuss), gets into an accident with a rival aluminum siding salesman, Ernest Tilley(Danny Devito), driving his own Cadillac.(I always thought Baltimore was a fairly large city, myself.) Large egos are involved, so vengeance is sworn but since there is an absolute lack of maturity, it's not really in an Old Testament kind of way.(If this was a less civilized time, then dueling would have definitely been an option.) The stakes are raised and this comes to include Tilley's neglected wife, Nora(Barbara Hershey)...[/font] [font=Century Gothic][/font] [font=Century Gothic]Writer/director Barry Levinson has a great eye for detail but the story is broadly drawn and hardly believable. For example, Babowsky is nearing middle-age and a bachelor when such things were frowned upon. (I found it hard to believe that in 1963 nobody was talking about starting a family and all of the men seem interested in living a mythic "Rat Pack" kind of lifestyle.) And I have no sympathy for a group of grown men who act like 10-year olds. All of which is a shame because a great supporting cast including John Mahoney, JT Walsh and Seymour Cassel is wasted. Barbara Hershey is by far the best thing in "Tin Men" but she is not in enough of the movie. [/font]
Tin Men Quotes
There are no approved quotes yet for this movie.